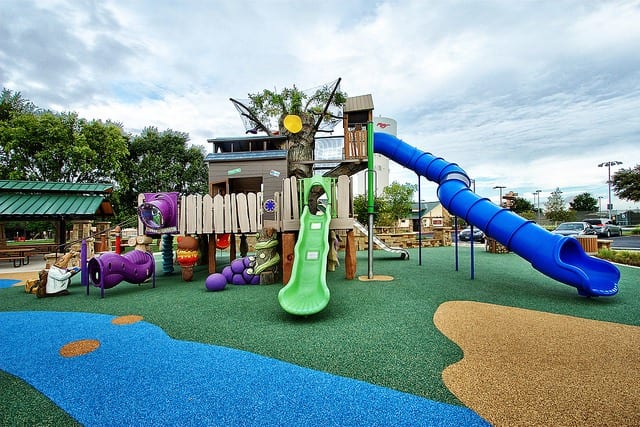 Dove Park was established in 1970. This park is a community park with Dove Waterpark located in the park. Basketball, tennis, and pickleball courts are located to the north of the waterpark. Casey's Clubhouse is positioned in the southeast corner of the park. This is a handicapped accessible play structure. Other amenities include a 8' wide x .5 mile concrete walking trail, sprayground, 2 pavilions, Pickleball Courts, and permanent restrooms.
Casey's Clubhouse is a renovated playground that astonishes and delights even kids who are claiming to have aged out of swings and slides. A huge network of slides, bridges, tunnels, and gazebos stretches across the playground, which also features swings, an enormous tube slide shooting out from the clubhouse, magical machines with gears to move, a seated zipline, an astounding variety of climbing structures, and so much more. In addition, it includes one of the best pools in Grapevine. It's hard to imagine exploring everything there is to see in just one visit, so plan on making this one a regular stop on your route and reserving a table or the pavilion for a big day in the future–once your child falls in love with it, he/she may very well hope to invite all his friends to join him there for cake the next time he gets a year older. One of the best things about this Dove Park feature is that it's made for everyone to play–the clubhouse itself is fully accessible.
This park is free to the public. Interested in reserving the Pavilion for a party? Learn more!
Dove Park