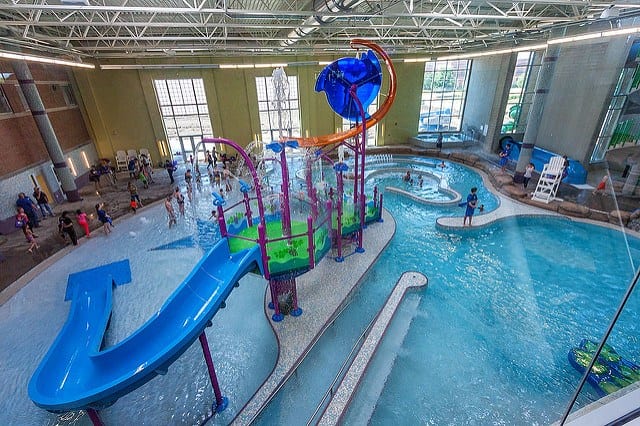 Aquatics
Grapevine Park and Recreation Aquatics offers many fun family opportunities throughout our community!

CLOSED, until Memorial Weekend 2017 – Dove Waterpark & Pleasant Glade Pool
The pools will open Memorial weekend for Summer, and close Labor Day 2017.
Don't let that slow you down, we have several state-of-the-art indoor aquatics facilities that operate year round! We have a spacious lap pool with 4 lanes, 4 fit swim areas, current channel, hot tub, aquatics places for the kids to play, and outdoor splash pad, and two incredible slides that go outside the building!
Grapevine Aquatics Mission Statement
To teach and enforce safety and respect, utilizing the lifesaving skills that we have been exceedingly trained to execute. To remain alert and to take action. Always offering dynamic customer service and encouraging fitness, fun, and better health. We are smarter, faster, and stronger! We are Grapevine Aquatics!
Service
Grapevine Aquatics offers many fun family opportunities! We offer swim lessons for all ages and ability levels, starting at six months old. Reserve your next birthday or other private party with us at Dove Waterpark or Pleasant Glade pool. We offer cabana rentals, table rentals, and after-hour private pool parties. There are also new family-fun special events at both facilities scheduled throughout the season!
Splash in Grapevine
Take the little ones to one of our two outdoor splash pads at Dove Park and Parr Park. 
Looking for a swim team? Join the Grapevine Gators

Spraygrounds
FREE to members & $10/visit for non-members
May 1 – September 30
Monday – Thursday: 8 am-8 pm
Friday & Saturday: 8 am-6 pm
Sunday: 12 pm-6 pm
Parr Park Sprayground & Dove Park Sprayground
FREE to residents & non-residents
8 am-8 pm, seven days a week!
Water shoes are encouraged at all spraygrounds!
To check availability at Parr Park, please email Sheila or call 817.410.3470. For the Dove Park Sprayground, please email Michele or call 817.410.3455. The Spraygounds themselves are not available for private rentals – only the surrounding cabanas or pavilions are available to rent.
Table Description

| Aquatics Contacts | Role | Phone Number | Email |
| --- | --- | --- | --- |
| Hunter Hardeman | Aquatic Supervisor | 817.410.3467 | hhardeman@grapevinetexas.gov |
| Jennifer Blackstock | Aquatic Programs Coordinator | 817.410.3489 | jblackstock@grapevinetexas.gov |
| Emily Marecle | Aquatic Operations Coordinator | 817.410.3471 | emarecle@grapevinetexas.gov |
| Kurt Hardin | Aquatic Tech Coordinator | 817.410.3918 | khardin@grapevinetexas.gov​ |
| | Inclement Weather Hotline | 817.410.3478 | |
close
Download the official Go Grapevine Magazine today!
Browse programs and activities.
There's something for everyone!