Below is our lunch calendar for the month.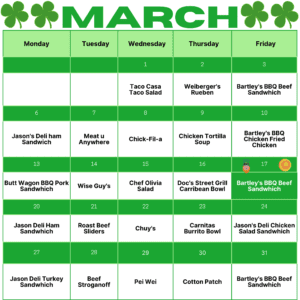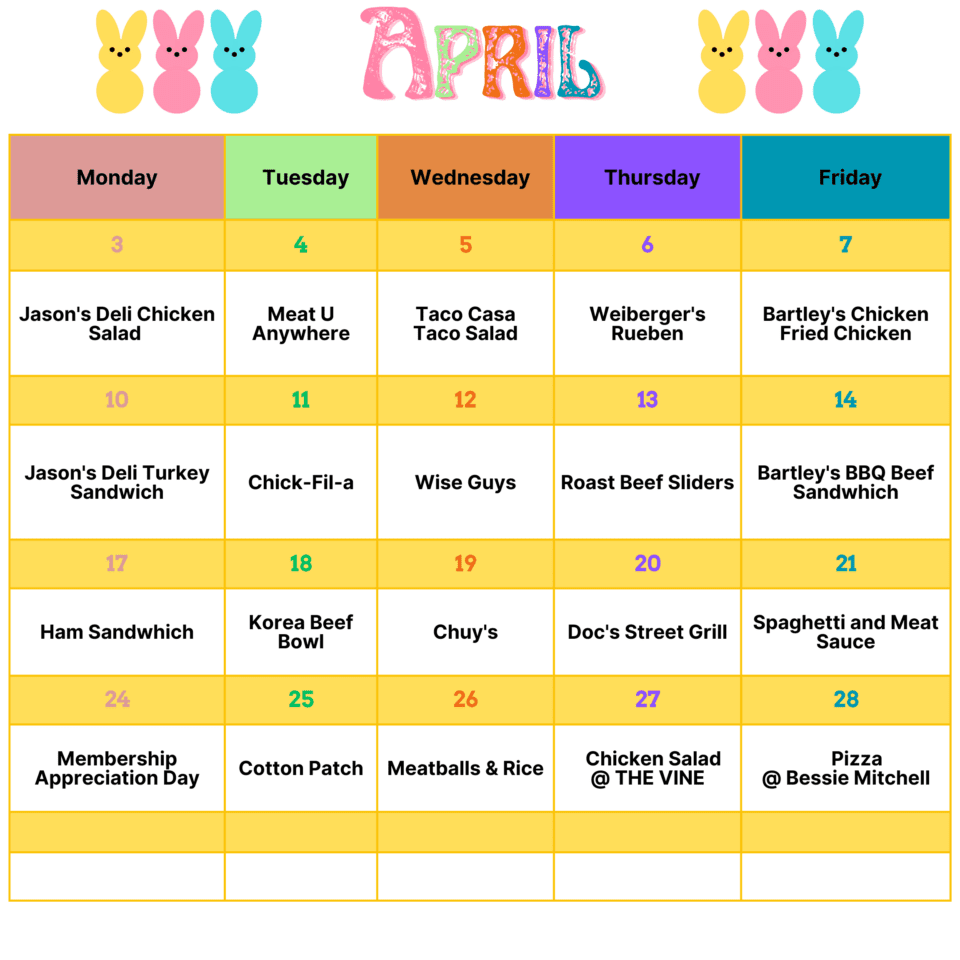 Active Adults 55 & Better Meal Program Guidelines
Meals must be ordered at least 48 hours ahead of time.
Monday – must be ordered by 2 PM on Thursday in the prior week
Tuesday – must be ordered by 2 PM on Friday in the prior week
Wednesday – must be ordered by 2 PM the Monday before
Thursday – must be ordered by 2 PM the Tuesday before
Friday – must be ordered by 2 PM the Wednesday before
Reservations may be made via Amilia or at the Active Adult front desk and can be for multiple days up to 4 weeks in advance.
Payment of $5/meal must be made when the reservation is made. Payment can be made by cash, check or credit card.
Reservations may be canceled up until 2 PM on the deadline date.
If a meal is canceled more than 48 hours ahead of time, refunds will be put on your household account for future use. There is no monetary refund for canceled meals.
If a meal is canceled less than 24 hours ahead of time, the money is forfeited and put into an account to cover the expenses associated with the meal program.
If a meal is served to someone on standby, the person must pay the $5 prior to receiving the meal.
Meals will be served in a closed container. Your container must have your name on it if you want us to refrigerate it for you.  All food is thrown out at the end of the day so please remember to take it home!
Lunches MUST BE picked up between 12 and 12:30 pm from Stewart Hall. If you are not here at noon to receive your lunch, you may call the Active Adult desk and request that your lunch BE HELD (with a time frame given for pick up) OR that your lunch be given to a designated person. If you have NOT CALLED by 12:30, your lunch will be forfeited and NO REFUND GIVEN.
Be aware that we may not be able to meet your dietary restrictions so plan your reservations accordingly
If the meal program becomes a financial hardship for you, please make an appointment to meet with Hunter Hardeman. Be prepared to bring financial documentation and income verification with you.