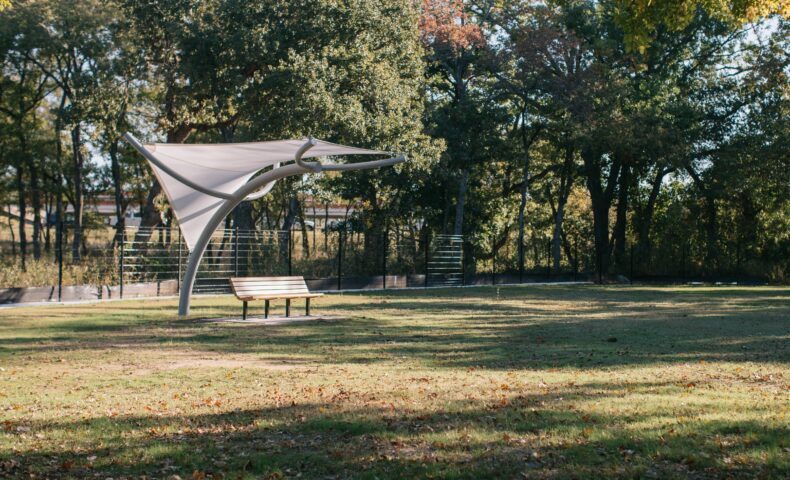 The Bark Park at Bear Creek Park
The Bark Park at Bear Creek Park provides a safe and fun place to take our four-legged family members. The park features enclosed off-leash areas, also known as paddocks, to accommodate different size dogs and activities. Special features include an all-weather area with a motion-activated splash pad, agility course, dog washing station, and shade structures. The park is 14 acres on both sides of Bear Creek Park to accommodate all patrons of the restrooms and parking. The Bark Park is closed to the public from 10:00pm until 5:30am each day.
Dogs must be unleashed inside the dog park with any pinch, prong, or spiked collars removed.
Food or treats, either for human or canine consumption, are prohibited within the Dog Park.
Pick up after your dog; plastic doggy waste bags are provided for your convenience.
Before entering, dogs should be fully vaccinated, over 6 months of age, and free of illness, disease, and parasites.
If a dog displays aggressive behavior, it should be removed from the park immediately.
Children under 12 must be accompanied by an adult.
No person shall bring a dog weighing less than 25 lbs inside the area designated for large dogs.
No person shall bring a dog weighing 25 lbs or more inside the area designated for small dogs.
Strollers, carts, skateboards, bicycles, roller blades, scooters, or motorized vehicles are prohibited unless used for ability assistance.
No glass containers are allowed.
Click here to see the full City of Grapevine ordinance and rules for off-leash dog parks.
The Bark Park at Bear Creek Park