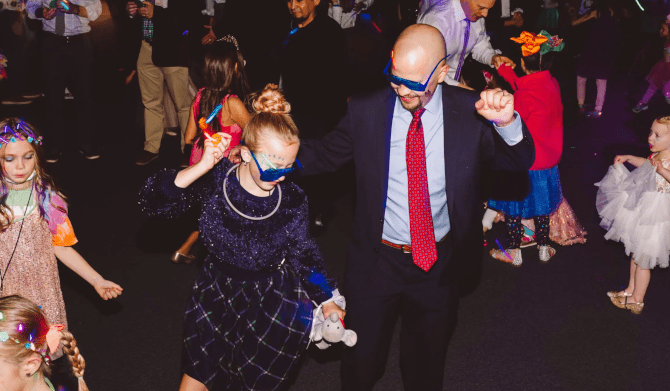 Daddy Daughter Dance: Disco
Date
January 19 — 20, 2024
Location
Compass Center
Daddy Daughter Dance: Disco
Get ready to boogie the night away at our groovy disco daddy–daughter dance. Your time will be filled with dancing, music, and themed activities, so dust off those bell-bottoms and put on your dancing shoes because we're taking you back to the seventies!
Pricing is per person and space is limited. This event will likely sell out and tickets are not sold at the door.
Dates: January 19 and 20, 2023
Location: Compass Church – 4201 Pool Road, Grapevine, TX 76051
Times: Friday, 7:00 – 9:00 pm, Saturday, 11:00 – 1:00 pm, 2:00-4:00 pm, 5:00-7:00 pm
Ages: 2-18 year-old girls
Fee:
December 11, 2023: Grapevine resident tickets on sale – $25 per person -using code GPVRES at checkout
December 18, 2023: Non-resident tickets on sale – $30 per person
Attire: There will be a mix of dancing and physical activities for this event. Please feel free to dress comfortably for both by replicating your favorite VIP look or be original with a one-of-a-kind design you put together yourself. If girls want to wear dresses we encourage shorts underneath.
More details to come!
For any further questions, you can also email us here
Daddy Daughter Dance: Disco
Past Daddy Daughter Events
Past Daddy Daughter Events