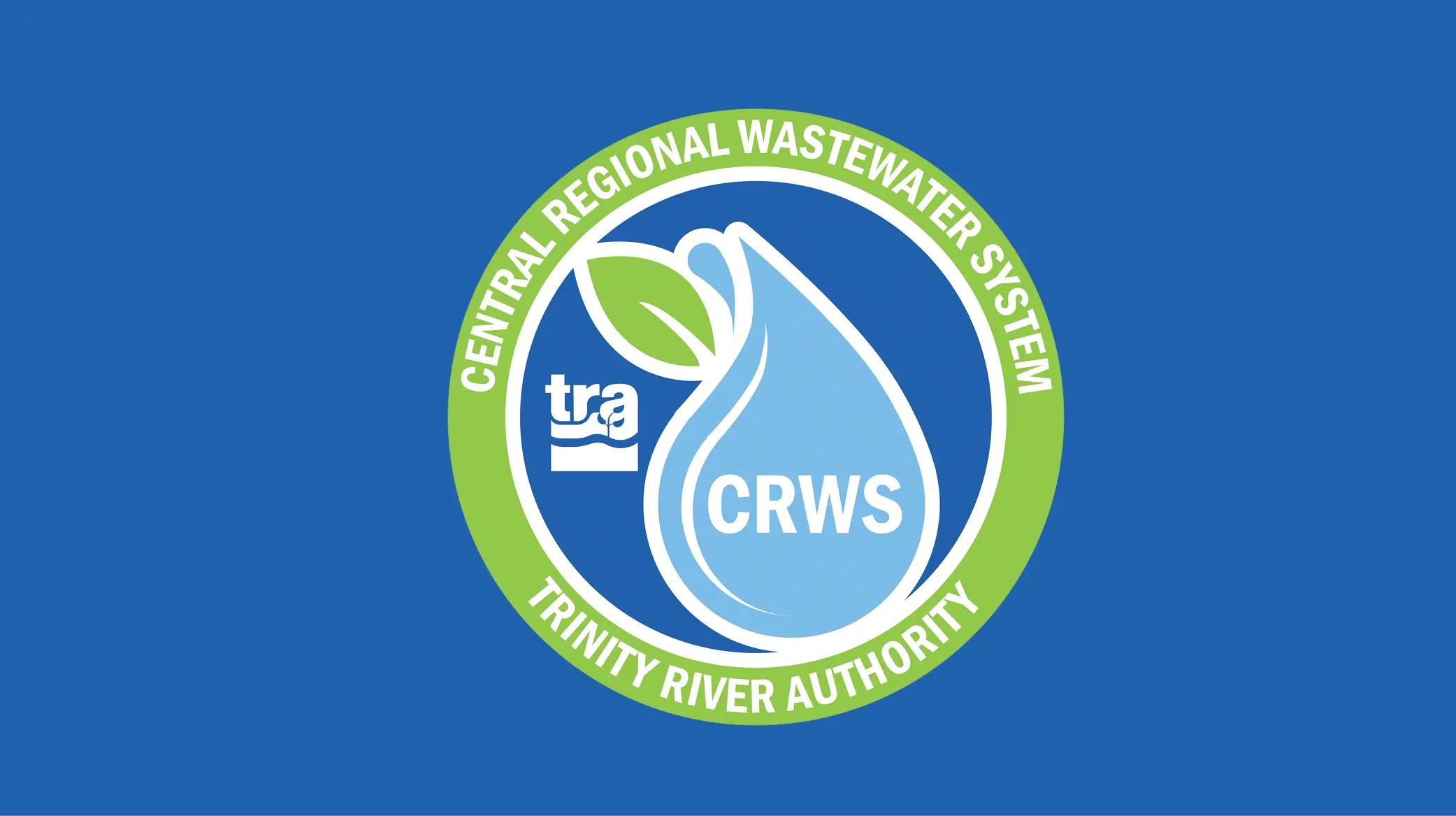 Trinity River Authority Wastewater Construction Project
Trinity River Authority Wastewater Construction Project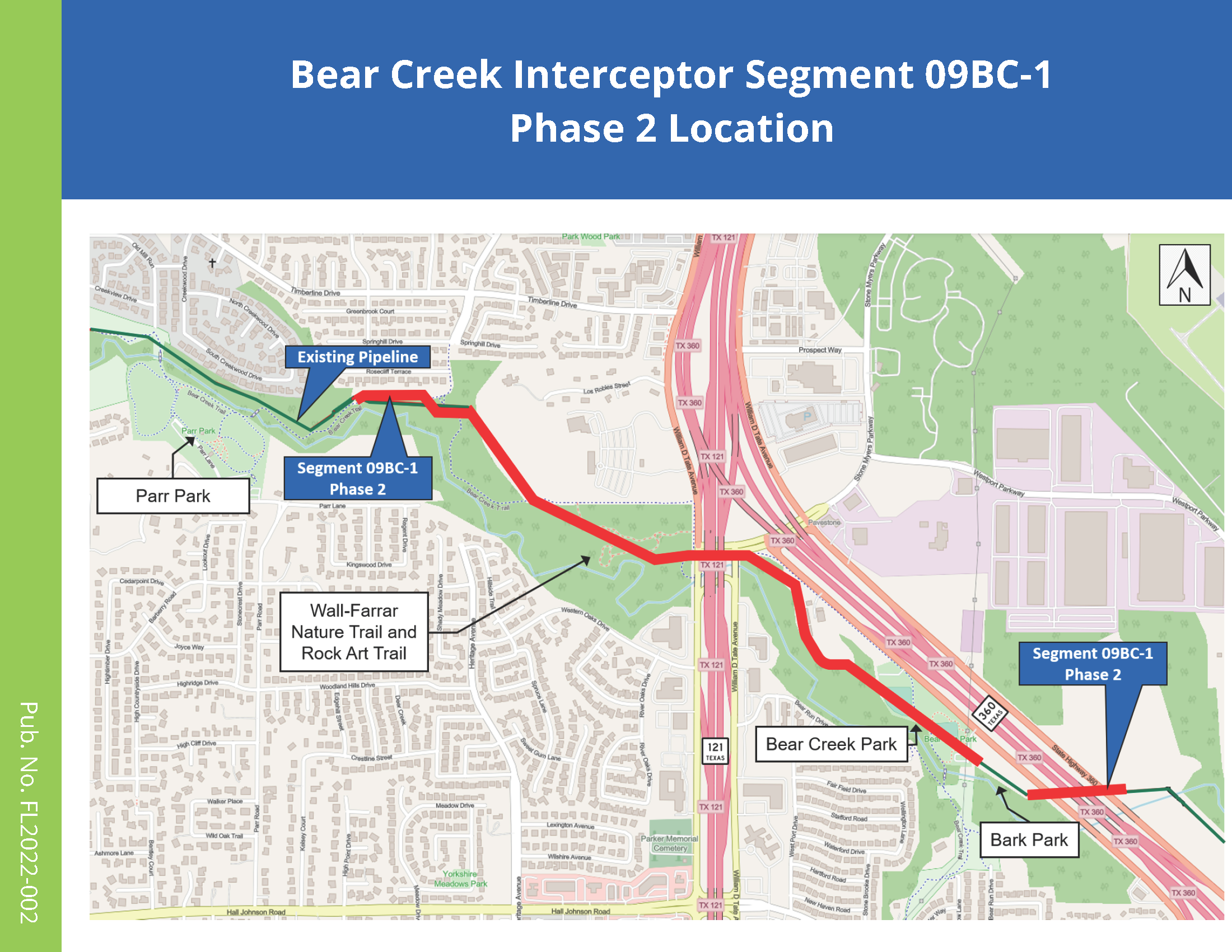 PROGRESS UPDATES AS OF 3/13/2023:
Pipe installation continues through Bear Creek Park. Due to weather delays, Bear Creek Park, trails, playground, batting cages, and baseball fields remain closed. However, The Bark Park at Bear Creek Park is open.
PROGRESS UPDATES AS OF 02/24/2023:
TRA ended up having to remove a couple of panels of trail to get a tunnel down below.  The sidewalk closed signs have been moved to the location area marked in pink.  We anticipate this will be closed for a couple of weeks until TRA can pull the pipe through the tunnel and add a piece to get past the trail
Pipe installation continues through Bear Creek Park.  The last section of pipe is being installed just north of the Bark Park.  Currently the Bark Park is still open.  Bear Creek Park is scheduled to reopen March 1.
Pipe installation has begun at Bear Creek Park.  To accommodate the alignment of the pipe concrete piers and abutments have been poured for the relocation of the pedestrian bridge between the two ball fields.  Bear Creek Park will remain closed until March 1.  However, the Bark Park is open.

TRA Construction continues and pipe installation will begin at Bear Creek Park to take advantage of baseball's off season.  Bear Creek Park will be temporarily closed starting on November 7 thru February 28.  The closure includes the following facilities within the Park:

Both Ballfields
Both Parking Lots
All Batting Cages
Playground
Restroom
Trails

The Bark Park will remain open. Here is a map on what will be closed during these dates at Bear Creek Park:

Installation of pipe has begun near William D. Tate/SH 121 and will progress westward.  The Wall Farrar Trail is closed until construction is completed. The Parr Park and Bear Creek trails will remain open. However, trail users should expect delays while trucks and equipment cross the trails.
The Wall Farrar Nature Trail will remain CLOSED during the duration of construction to house construction materials.
Trinity River Authority Wastewater Interceptor Project construction continues throughout the project site.  Large equipment and materials are being staged at "Man-hole Hill" (east of Parr Park, south of Rosecliff Terrace) for the installation of a temporary bridge to accommodate construction trucks and equipment. Bridge installation will begin next week. Flaggers will stop trail users when trucks are crossing the Parr Park and Bear Creek trails.
Trail crossings by trucks and equipment will increase delivering road base for the temporary road and gravel for pipe installation. Trail users should expect delays. Flaggers will stop trail users when trucks are crossing the Parr Park and Bear Creek trails.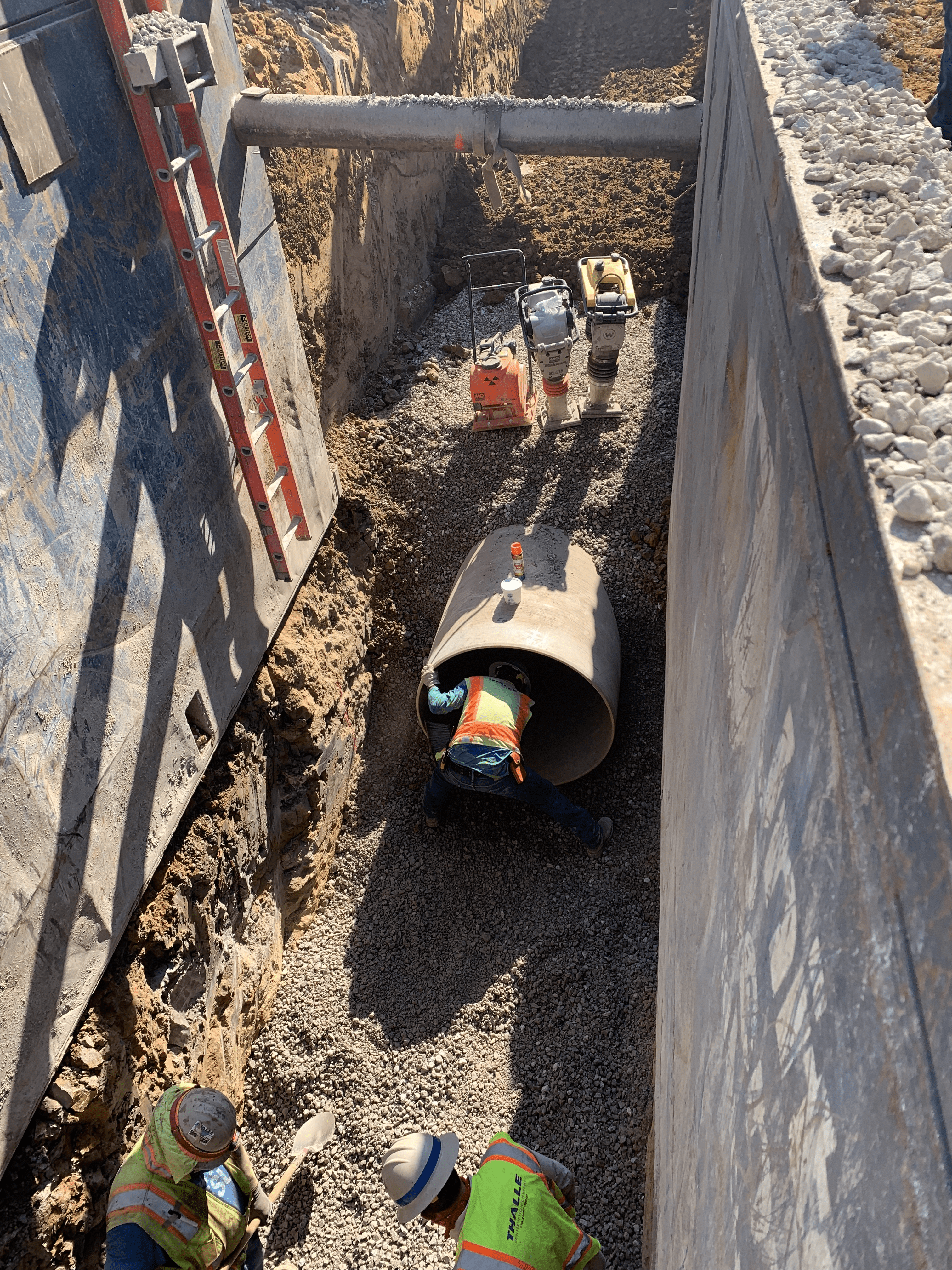 .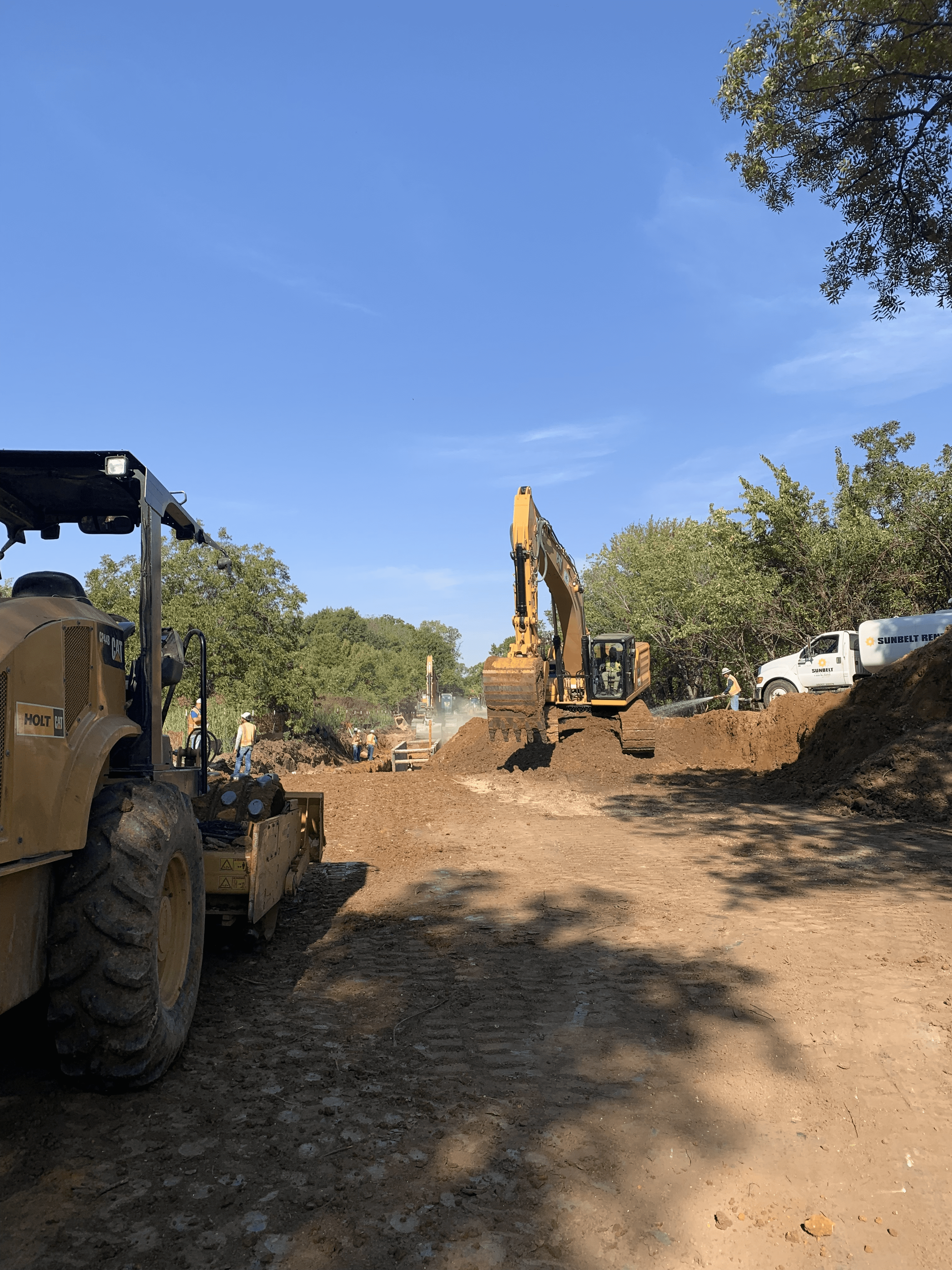 ---
Thalle Construction Company, Inc. has been contracted by the Trinity River Authority of Texas to construct the Bear Creek Interceptor Segment 09BC-1, Phase 2 Project for the Central Regional Wastewater System. Construction is in progress near your neighborhood.
WHY: This project will replace the existing pipeline infrastructure that is currently located in the same corridor to improve overall system service.
WHERE: The map above is the approximate location of the Bear Creek Interceptor Segment 09BC-1, Phase 2 construction project. Construction access will occur along the project limits, as well as from Old Mill Run to access the western limits of the construction.
WHEN THE WORK WILL TAKE PLACE: Construction will occur in phases over the next two years. The majority of the work will occur during normal work hours (7AM – 7PM, Monday through Friday). The project is expected to be completed by the end of 2023. Weather and unforeseen events may cause delays.
WHAT YOU MAY SEE: There will be construction activity related to installing pipe, and there will be heavy equipment and industrial lighting used on the project. Expect temporary trail closures to ensure safety.
WHAT YOU MAY HEAR: The sound of pumps, generators and heavy equipment may be heard intermittently.
WHAT YOU WILL SMELL: There may be occasional odors associated with the project as we make connections to an existing pipeline and divert wastewater to a new pipeline.
SAFETY NOTE: Be aware of fenced-off construction areas and watch for signage. Stay away from construction, storage sites and equipment. If you see something unusual or unsafe, please let us know immediately.
---
Got Questions, call TRA at 817.493.5740