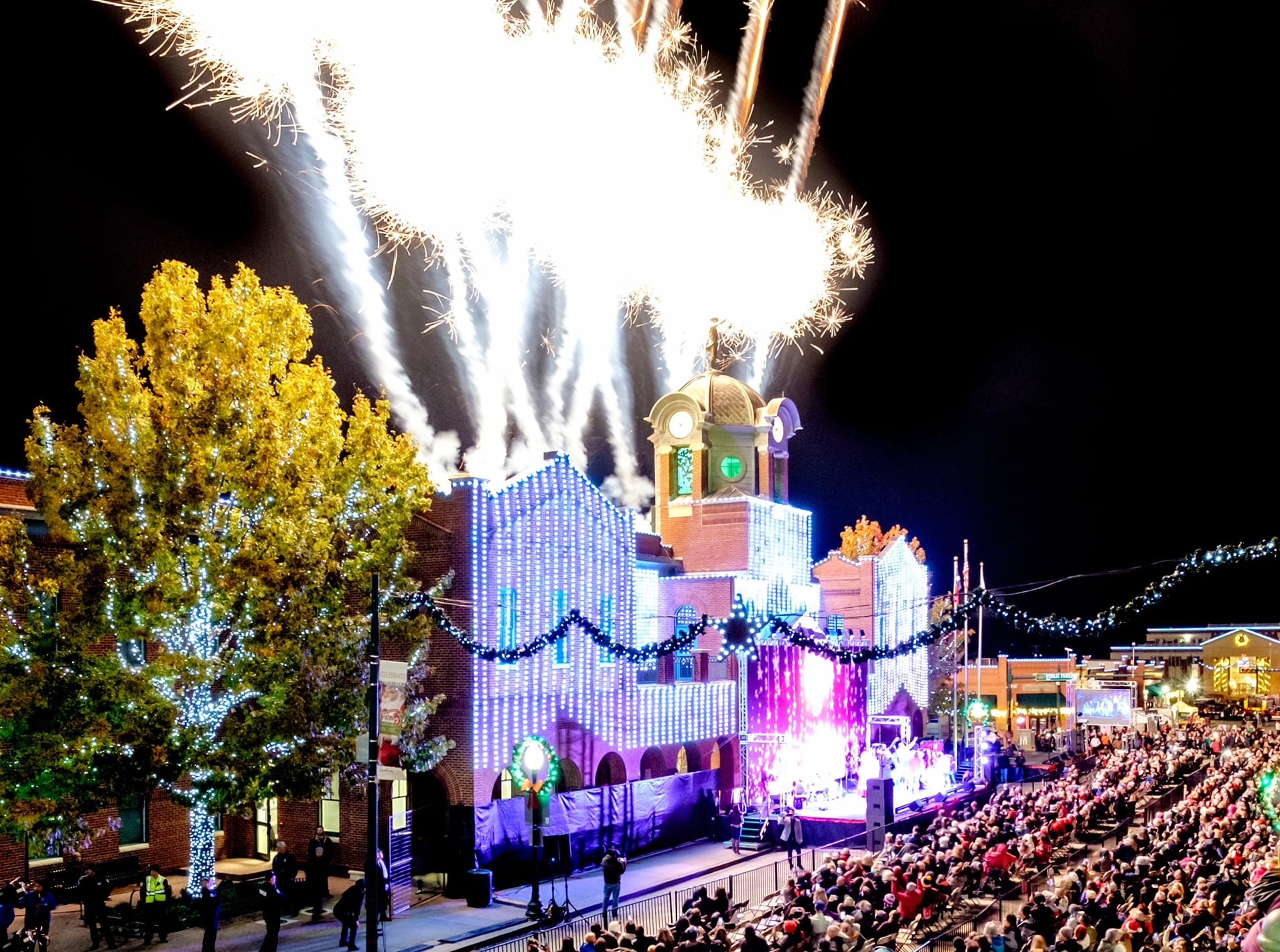 Top 10 Things to Do in Grapevine During The Holidays
November 11, 2019
As the Christmas Capital of Texas®, it comes as no surprise that during the holiday season, Grapevine is filled with fun activities and holiday joy to experience and create long-lasting memories with your family and loved ones. With 1,400 events in 40 days, Grapevine is the perfect place to create yearly traditions, and to celebrate the spirit of Christmas. From Tractor-Drawn Wagon Rides through the Historic District, strolling down Main Street looking at all of the Christmas decor, to reading stories with Mrs. Claus, Grapevine is a must-visit destination each year during the holidays. Choosing between 1,400 events in 40 days may be a not-so-jolly task. Understanding this, we have compiled a list of our top 10 things to do during the holiday season in Grapevine.
The number one MUST-SEE event in Grapevine is Carol of Lights! This event is the official kick-off to ALL of the Christmas fun here in the Christmas Capital of Texas! Witness the magic of Christmas as Mayor Tate flips the switch to illuminate over one million Christmas lights scattered throughout Downtown Grapevine! This free community event attracts people from all over and truly gets you in the Christmas spirit. Family activities begin during the day with sledding down the ALL-NEW snow hill, photos with Santa and live reindeer, creating seasonal crafts, inflatable obstacle course, face painting and much more! This community event is completely free and features live performances, dance numbers, and ends the night with a huge firework show. Something new this year is an interactive experience to the famous light show through downloading the "CUE Live" app on your phone and experience the light show like never before!
Main Street, Downtown Grapevine
Monday, November 25
Activities begin at 4 p.m.  |  Carol of Lights show begins at 7 p.m.
Free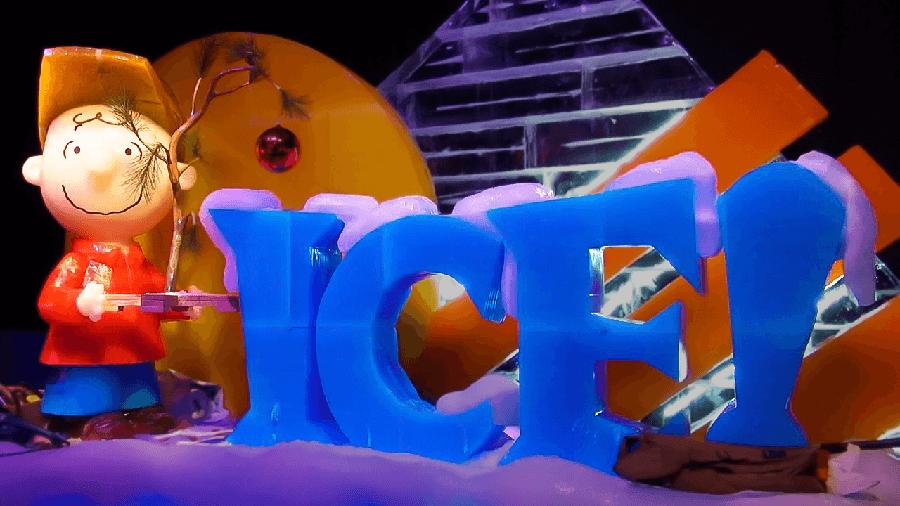 Ok yes, "ICE" gets its very own spot on our list! This event has been running now for 14 years straight and is STILL one of the MUST see attractions in North Texas during this time of year! With over 2 million pounds of ice, everything you see in this 14,000 square foot exhibit is made completely out of ice! Each year this exhibit features a new theme and this year's theme is, "A Charlie Brown Christmas!" This exhibit takes over 40 ice sculptors to construct and even features huge custom ice slides to ride down! Now, ice is not the only thing you will see in this incredible exhibit, they made an exception for a few decor items. When I say "a few" I'm talking one-and-a-half million twinkling lights, 12,000 ornaments, a 52-foot-tall rotating Christmas tree, and a life-sized gingerbread house! Dress warm, they keep this entire exhibit at a cool at 9 degrees.
Friday, November 15 – Sunday, January 5
Children $14.99 | Adults $23.99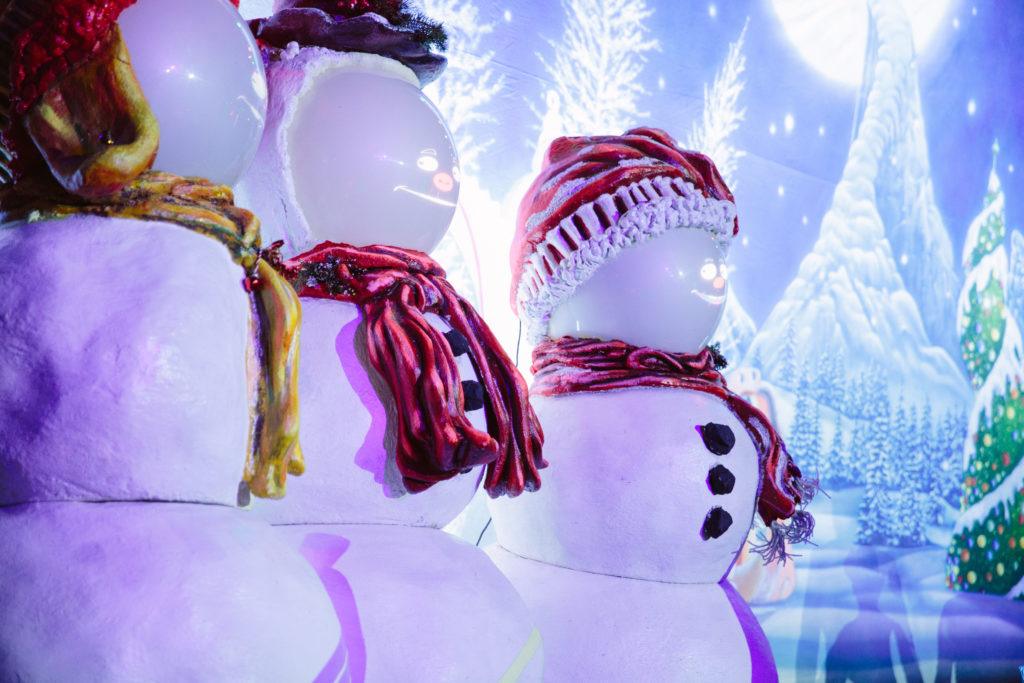 When you talk to Grapevine locals about their Christmas traditions, a lot of them would probably share their tradition of walking up and down Main Street, Grapevine during the holidays! The amazement is children's eyes with the magic of Christmas they see, is completely priceless. Historic Downtown Grapevine transforms into an authentic Christmas town this time of year and competes in beauty to ANY Hallmark card you'll find! With over 1 million twinkling lights, wreaths dressing every light pole, every store and shop on the street completely decked out with Christmas spirit, and actual snow flurries daily, the Christmas Capital of Texas does not disappoint. Everywhere you look on this historic street has been well-thought-out and fully enhanced with Christmas joy and decorations! Take a stroll through the Town Square Gazebo, experience animated snowman, "The Chilly Dawgs" as they perform all day long surrounded in snow for your enjoyment in front of Foust & Son. After the sun sets, experience and see JUST how the magic of Christmas brings our 30-foot community Singing Christmas Tree to life at the Town Square Gazebo. Did we mention the snow flurries?!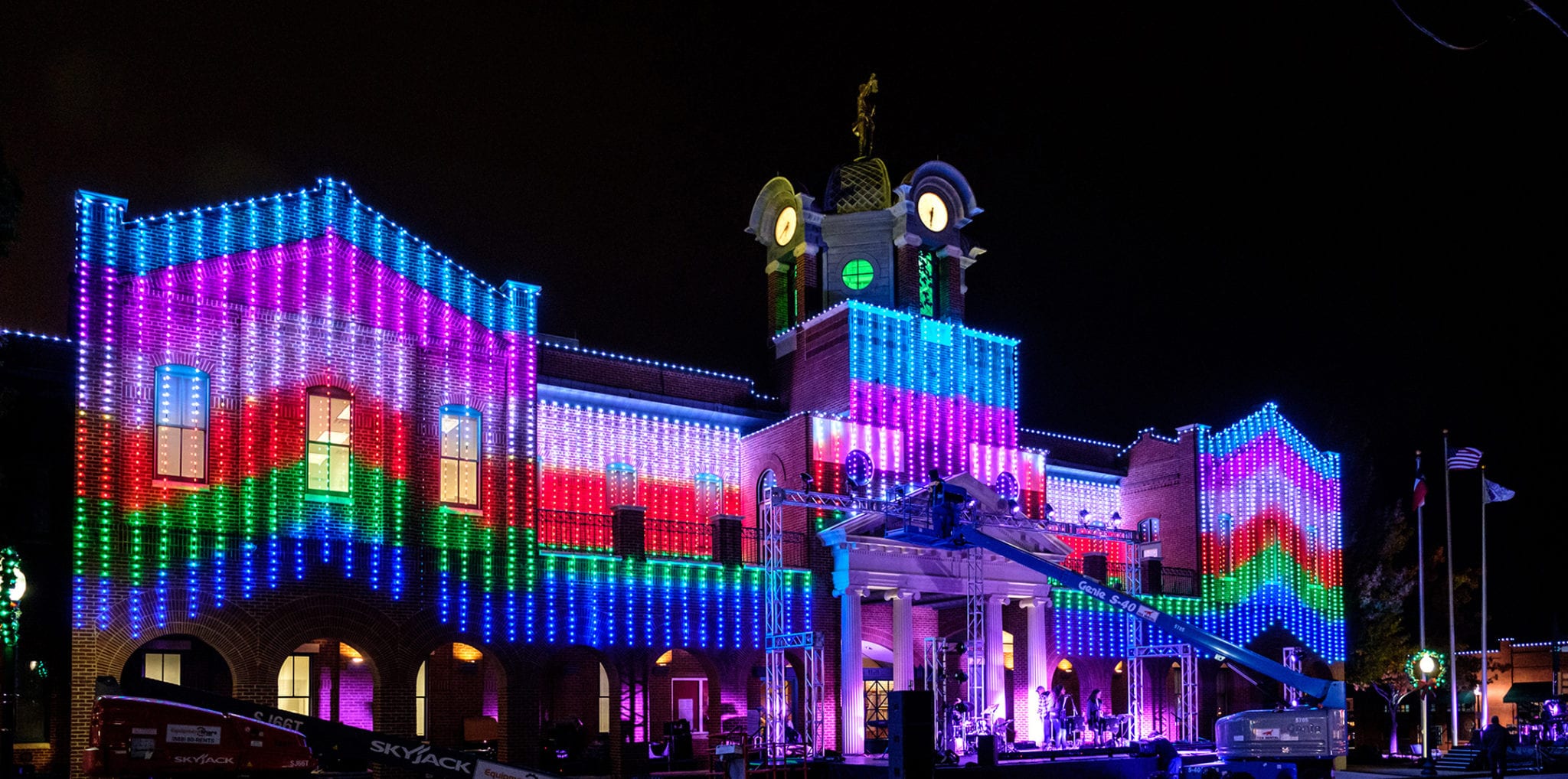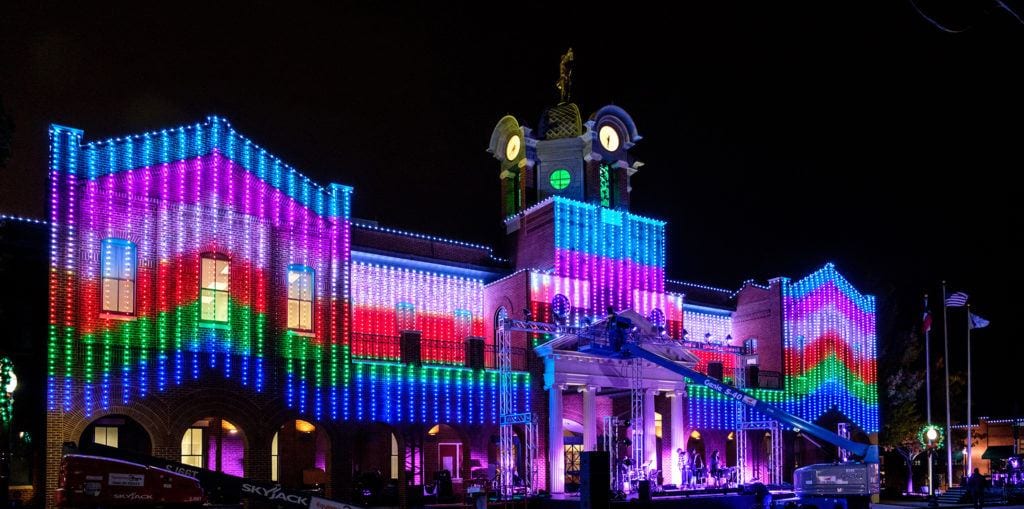 Experience the City Hall Light Show Spectacular, a brilliantly-synchronized 45+ minute show! Wrap yourself with holiday cheer as you experience fresh snowfall on Main Street while watching this incredible light show on City Hall.

Monday, November 25 – Saturday, January 4 (9:00 a.m. – 11:00 p.m.)
Free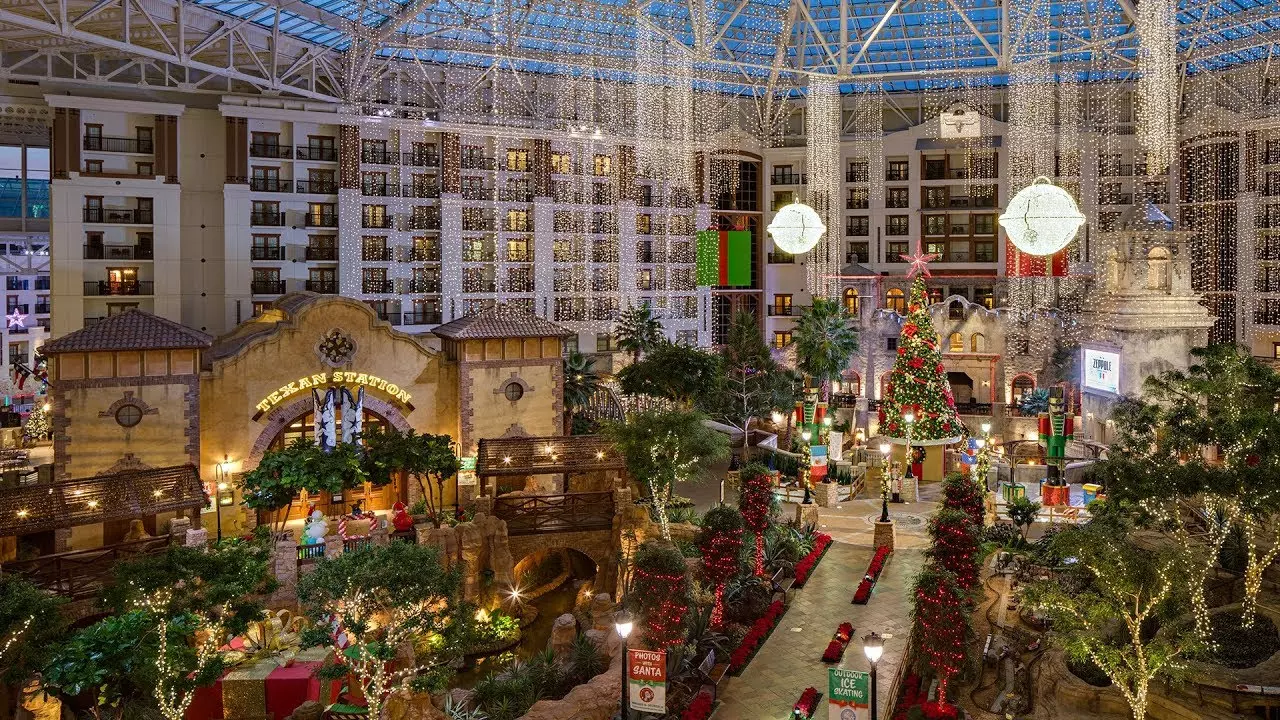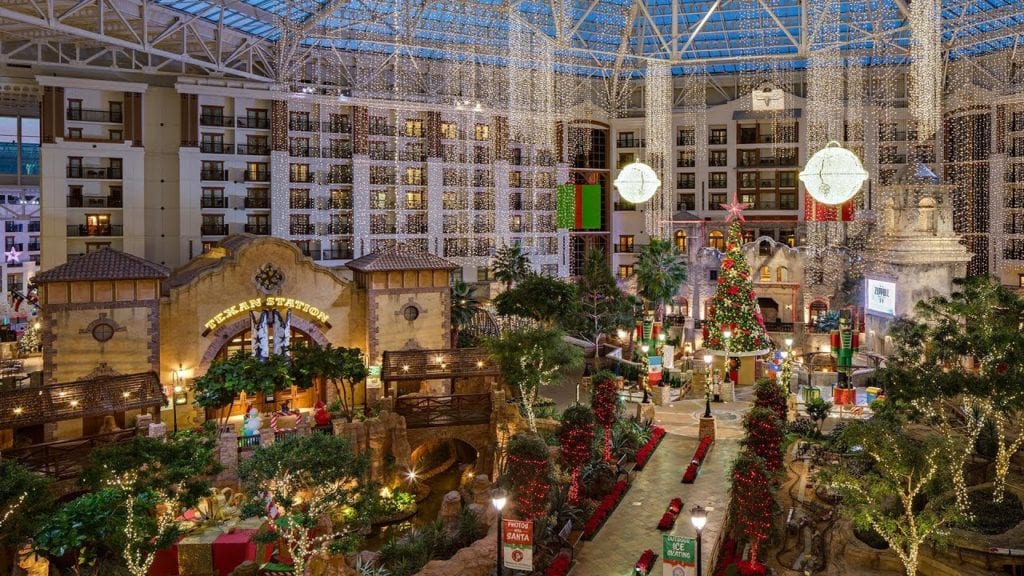 Throughout The Holiday Season
Prices vary
The Gaylord Texan completely transforms itself during the holidays, and rightfully so, being located in the Christmas Capital of Texas! In this beautiful hotel and convention center, there are MANY things to see, explore, and discover during the Christmas Season! Snow tubing, gingerbread decorating, story-time with Mrs. Claus, Santa's Snow Throw, Ice Skating, and SO much more! We call this, "A Day at the Gaylord Texan" but the number of events and activities they offer, one day might not be enough!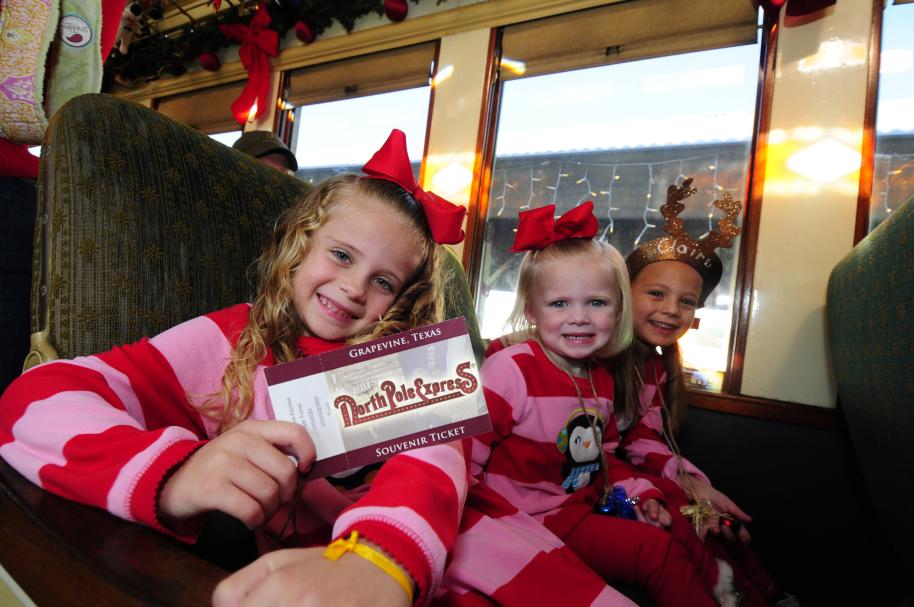 Grapevine's Vintage Railroad
Dates vary (see website)
$28 – $38 each
Experience the magic of Christmas aboard Grapevine Vintage Railroad's North Pole Express, presented by Great Wolf Lodge! In this one of a kind train ride, guests will experience Christmas Magic! Greeted at the train by some of Santa's Elves, you will receive a special Memory Mug of Santa's special Frosty Chocolate Snow Milk. Once seated, you are served a delicious Christmas cookie to enjoy on the way to Reindeer Ridge where Mrs. Claus is expecting your arrival with a magical "We Believe" silver bell for each child. The train then continues on to the North Pole where guests stroll through the snowy North Pole Forest, making their way to Santa's Workshop. Once inside, Santa, Mrs. Claus and a cast of jovial elves perform a Broadway-style Christmas performance and share in the kindness of the season.
*Unfortunately, this year, 2019, all tickets are sold out. Tickets for the North Pole Express rides sell out extremely quickly each year. Be on the lookout for when tickets become available for 2020!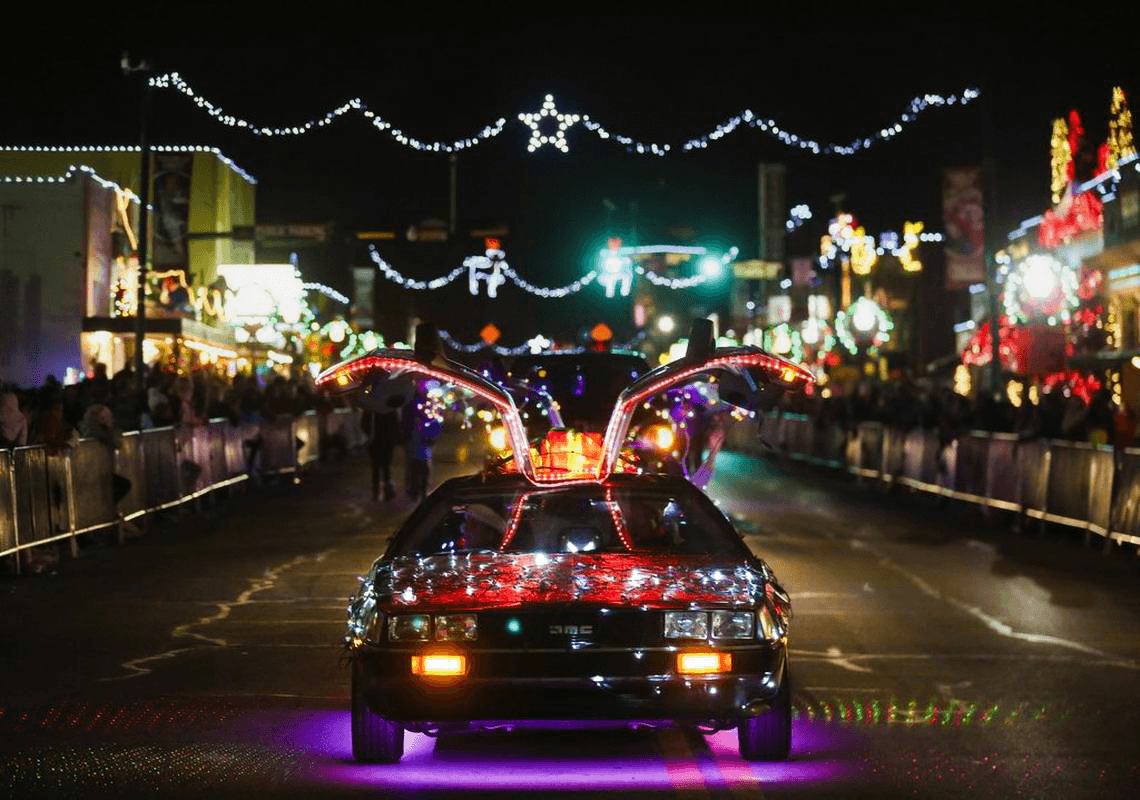 Main Street, Grapevine, Texas
Thursday, December 5
Free
Experience the largest lighted Christmas parade in North Texas! This incredible event is hosted and coordinated by Grapevine's Chamber of Commerce, The City of Grapevine and Grapevine Colleyville Independent School District. It will feature many Grapevine locals who design and operate their own floats! During this Grapevine tradition, you will see more than 100 lighted floats and marching bands! Santa Claus even makes an appearance at the end to cap off this amazing Parade of Lights! Make sure to arrive early, as standing room is limited and the event is always packed.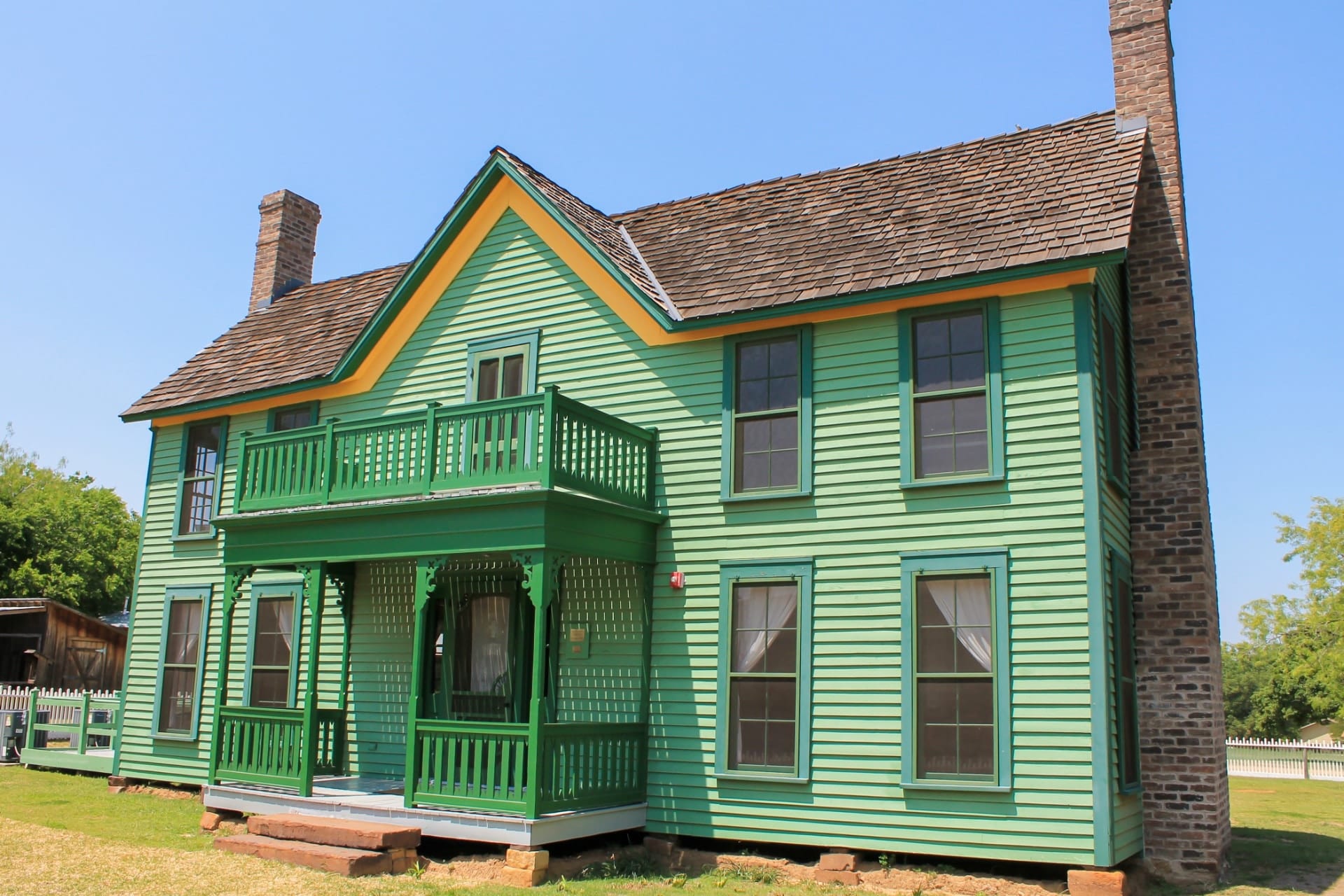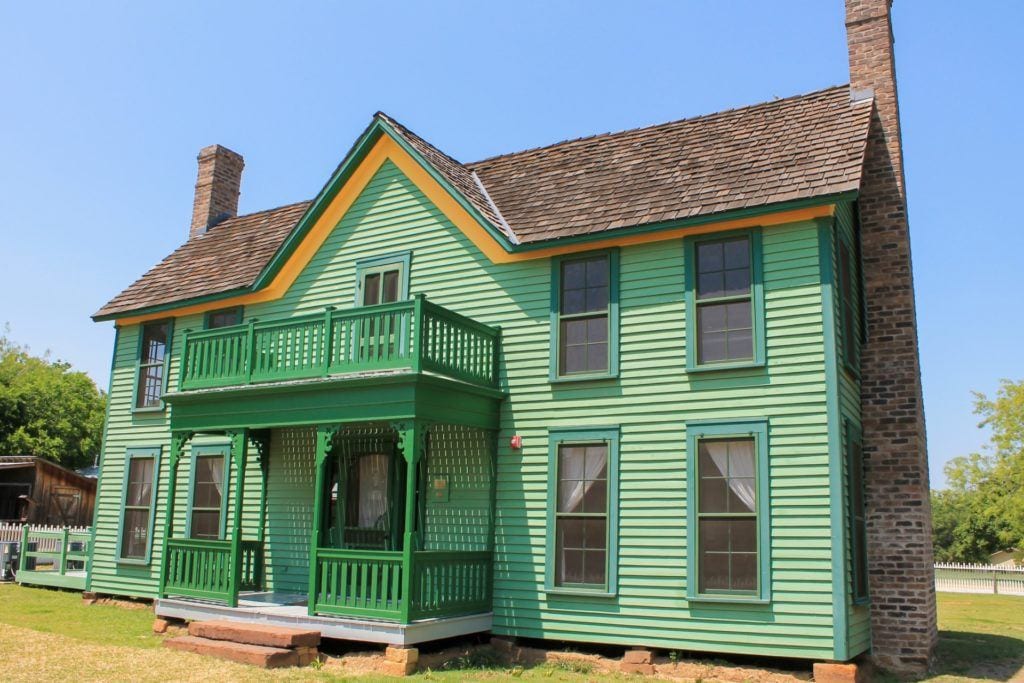 Nash Farm, 626 Ball St.
Multiple events (starting on Sunday, December 1)
From $5 – $15 each
Have you ever experienced Grapevine's Nash Farm? This farm dates back to 1859 and still operates in its original beauty! When visiting this historic landmark during the holidays, you will travel back in time and experience an authentic Victorian Christmas. Nash Farms offers multiple holiday events during this magical time of the year including the Farmstead Christmas Celebration and Parlor Sociable, all happening right at Nash Farm.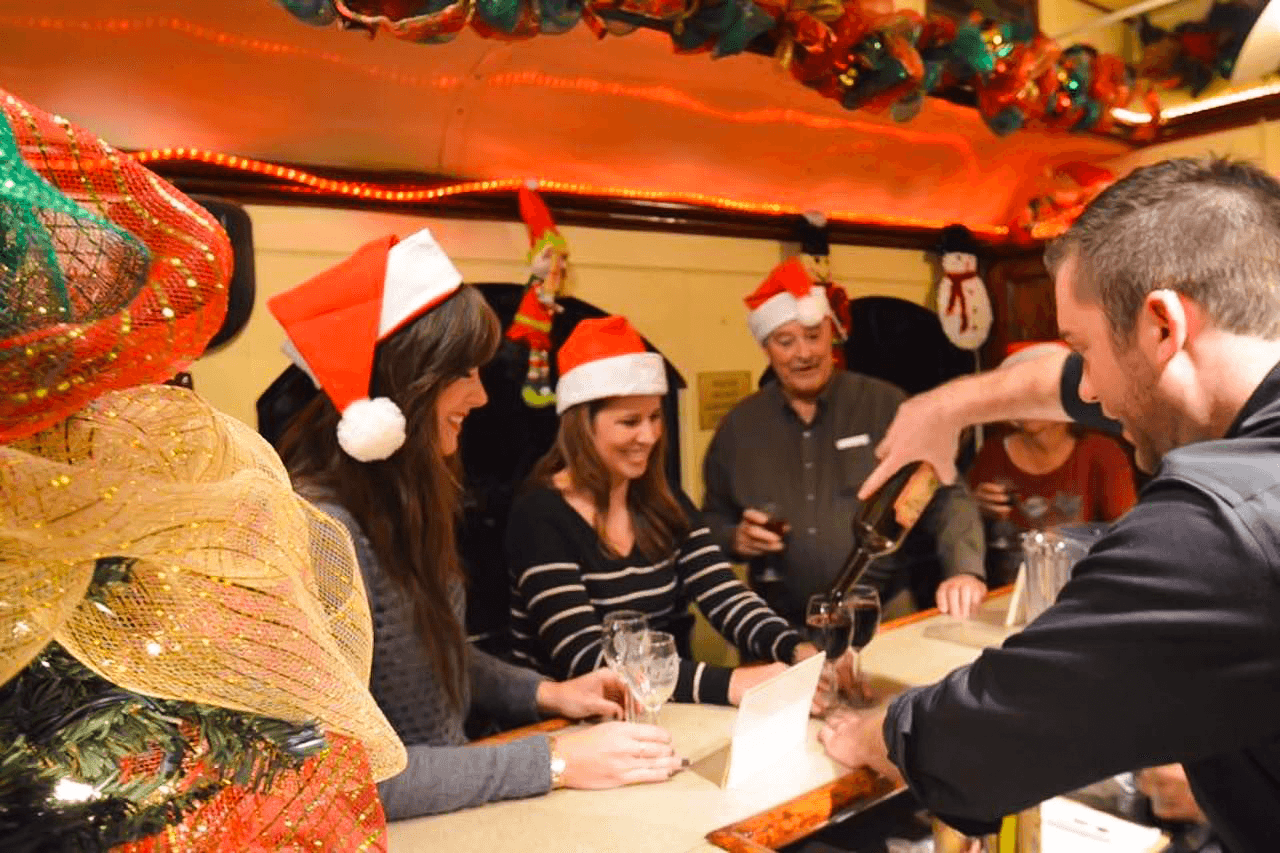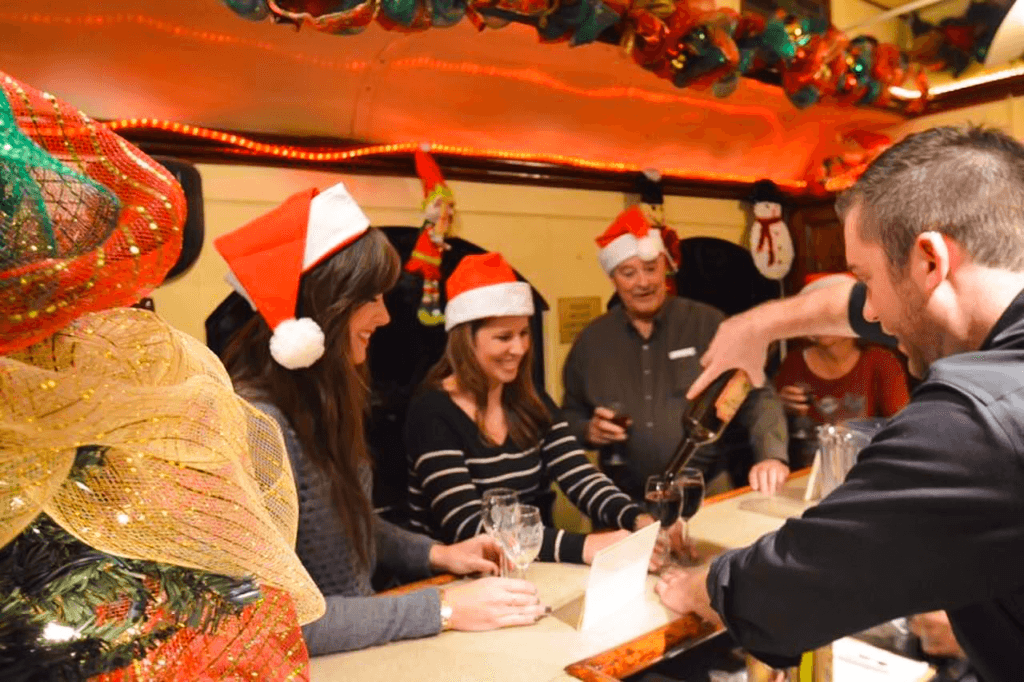 Grapevine – Cotton Belt Railroad District
Dates vary (see website)
$45 each | Ages 21+
You can't be Grapevine without offering something historic, sprinkled in with Christmas, topped off with fine Texas wine! The Christmas Wine Train checks off all the boxes for a special (and romantic) getaway for you and your loved one. This 21 year+ event is here to serve you! Heavy hors d'oeuvres, two complimentary glasses of fine Texas wine served in a souvenir glass, and an elegantly dressed coach has all the makings to create the perfect date-night for you and your special someone during this two-hour unique experience.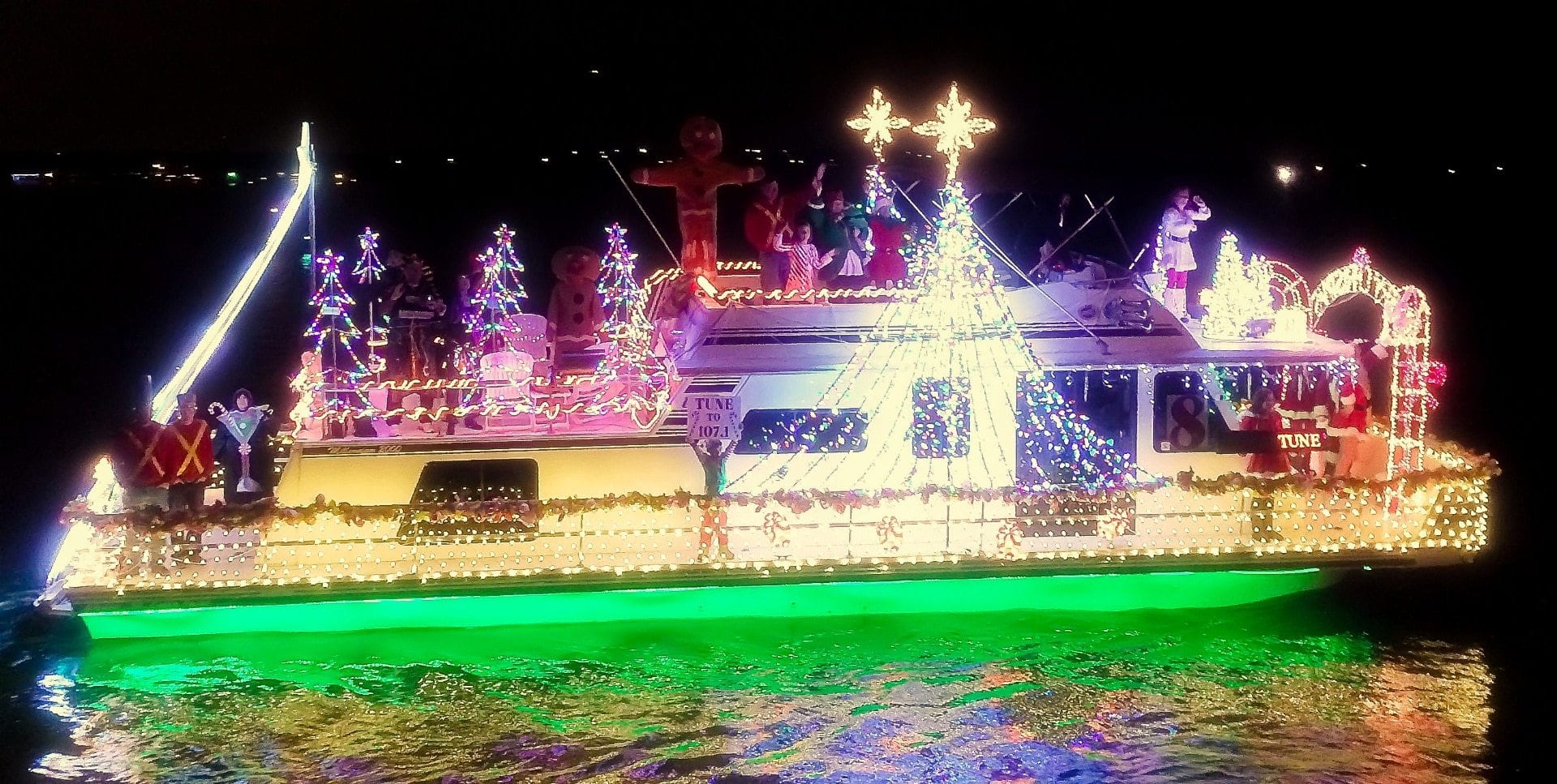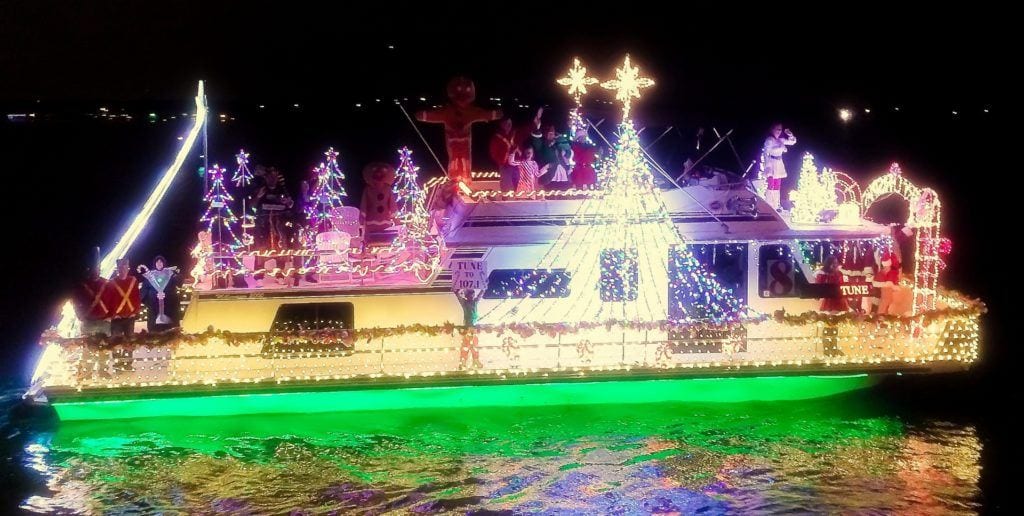 Grapevine Lake
Saturday, December 7
6:00 – 8:00 p.m.
Free (parking fees apply)
For an event like no other, you must visit this unique Christmas parade! Water crafts will twinkle with lights and Christmas spirit bringing you a Texas-Sized parade on the water. This lighted boat parade will start at Twin Coves Marina and picks up entries at each marina including Scott's Landing and Silver Lake. You can see this parade in all of its Christmas Glory from and the shorelines of Grapevine, including Rockledge Park. Parking fees may apply, but the event is free.