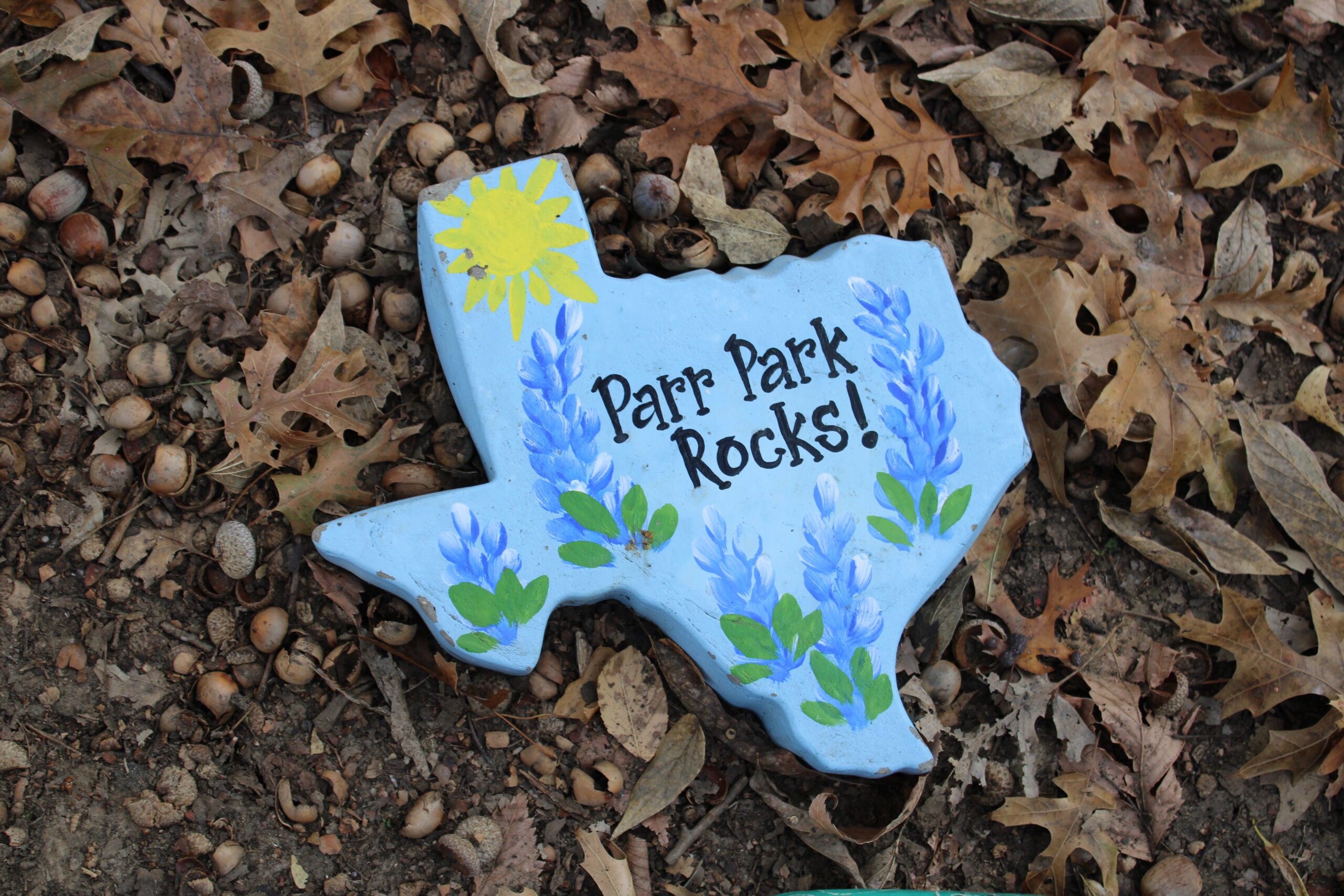 The Parr Park Rock Art Trail Blog
October 10, 2020
Did you know along the trail outside of Parr Park, there are thousands of rocks delicately painted with inspirational quotes, cartoon characters, nature & wildlife, Texas landmarks, and so much more?
The Parr Park Rock Art Trail is sure to inspire all who meander through the trails to explore. The Rock Art Trail lies between the trailhead of Wall-Farrar Nature Trail and the trail connection from Parr Park along Big Bear Creek.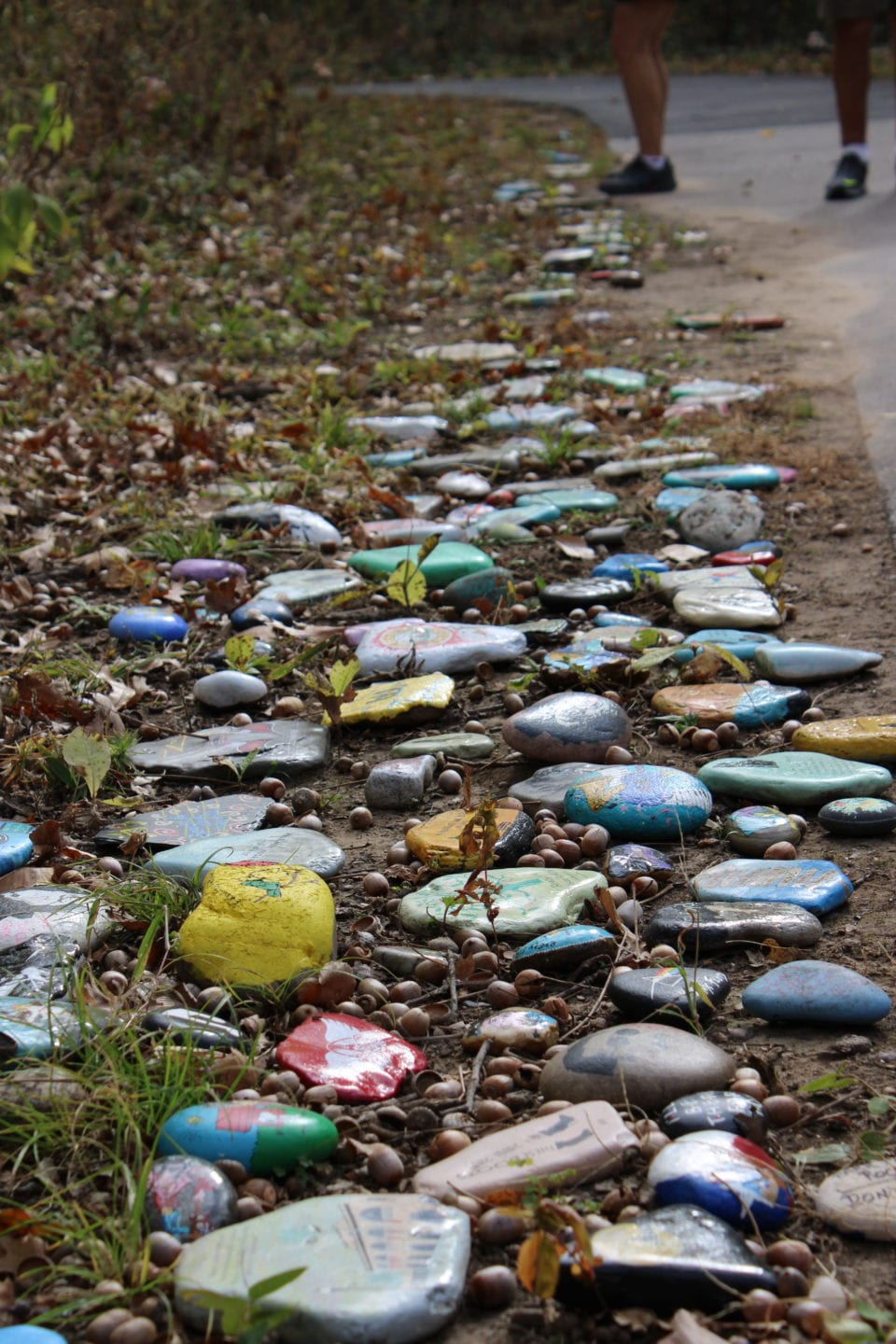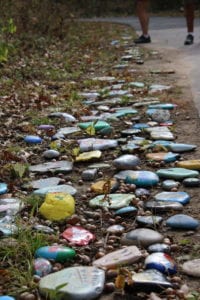 Once the Parks and Recreation Department discovered the Rock Art Trail, we felt compelled to learn who the artists were behind this beautiful work. Some research led us to Grapevine resident Ron Olsen, who we soon learned started the initiative with only ten rocks to spread joy throughout the community.
In early March, Ron took a work trip to Iceland, right before the Coronavirus (COVID-19) began spreading around the nation. The outbreak worsened, and his friends and family in Texas told him about how Texan businesses were shutting down, schools were closed, and many people were isolated to their homes. As the number of COVID-19 cases increased rapidly, traveling in and out of countries came to a halt. Ron learned that he was going to be stuck in Iceland until it was safe to leave.
"Being stuck in Iceland was a combination of a lot of chaos, including quarantine for a few days as I thought I had contracted the virus," Ron said. "My test came back negative, but it mangled my travel schedule. Then the utter confusion and canceled flights and border and airport closures, I was starting to think I would not be coming home anytime soon."
After weeks passed in isolation, Ron finally returned to Grapevine, where the shutdown of his beloved state and city was now a reality. "Travel from Iceland to the United States was permanently halted the day after I left," says Ron.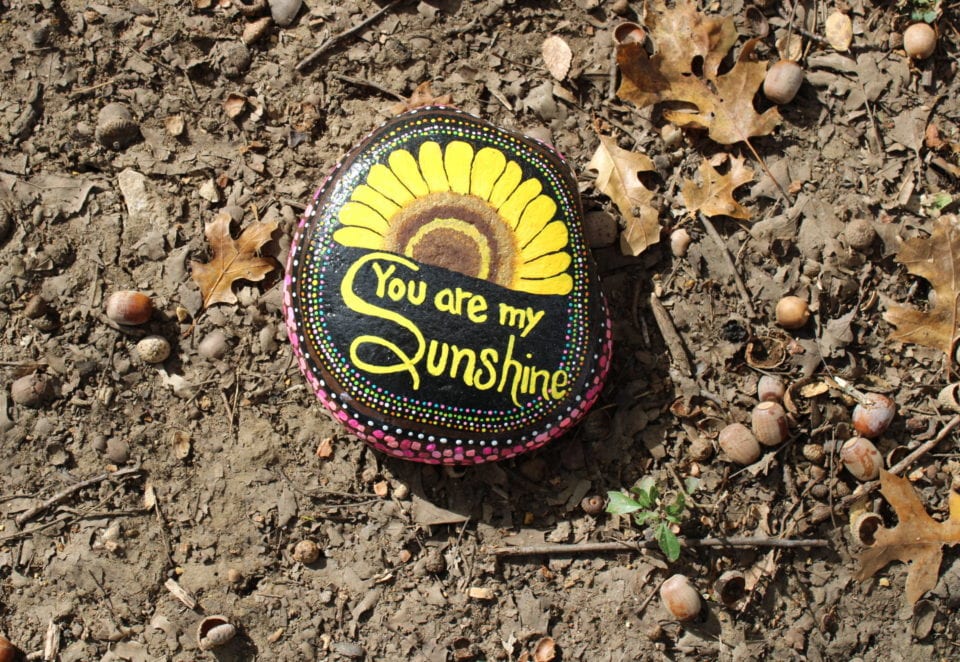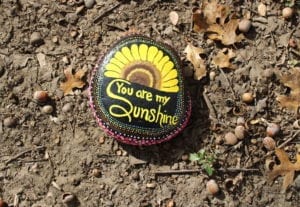 As many Texans did, Ron turned to the outdoors for physical activity to escape from feeling stuck at home. Before COVID-19, as an avid trail explorer, Ron visited Parr Park Trail to enjoy the nicely shaded areas and the connection to nature the trail provides. And while, like him, many were outdoors enjoying nature, the future's uncertainty left people stressed and worried.
Ron explains, "After I came back home and saw a lot more people outdoors, I wondered, what could I do to uplift and encourage my community?"
So, he and his family gathered ten smooth-surfaced rocks, painted them, and scattered them alongside Parr Park Trail. The original stones' artwork consisted of a simple happy face, an Oklahoma University logo, blue-bonnets, a mountain and stream scene, a galloping horse (Grapevine Mustang!), and rock zero was the Iceland national flag.
To Ron's surprise, rocks began multiplying. Other trail attendees would add day by day, more and more rocks. It was precisely the chain reaction that he was hoping for.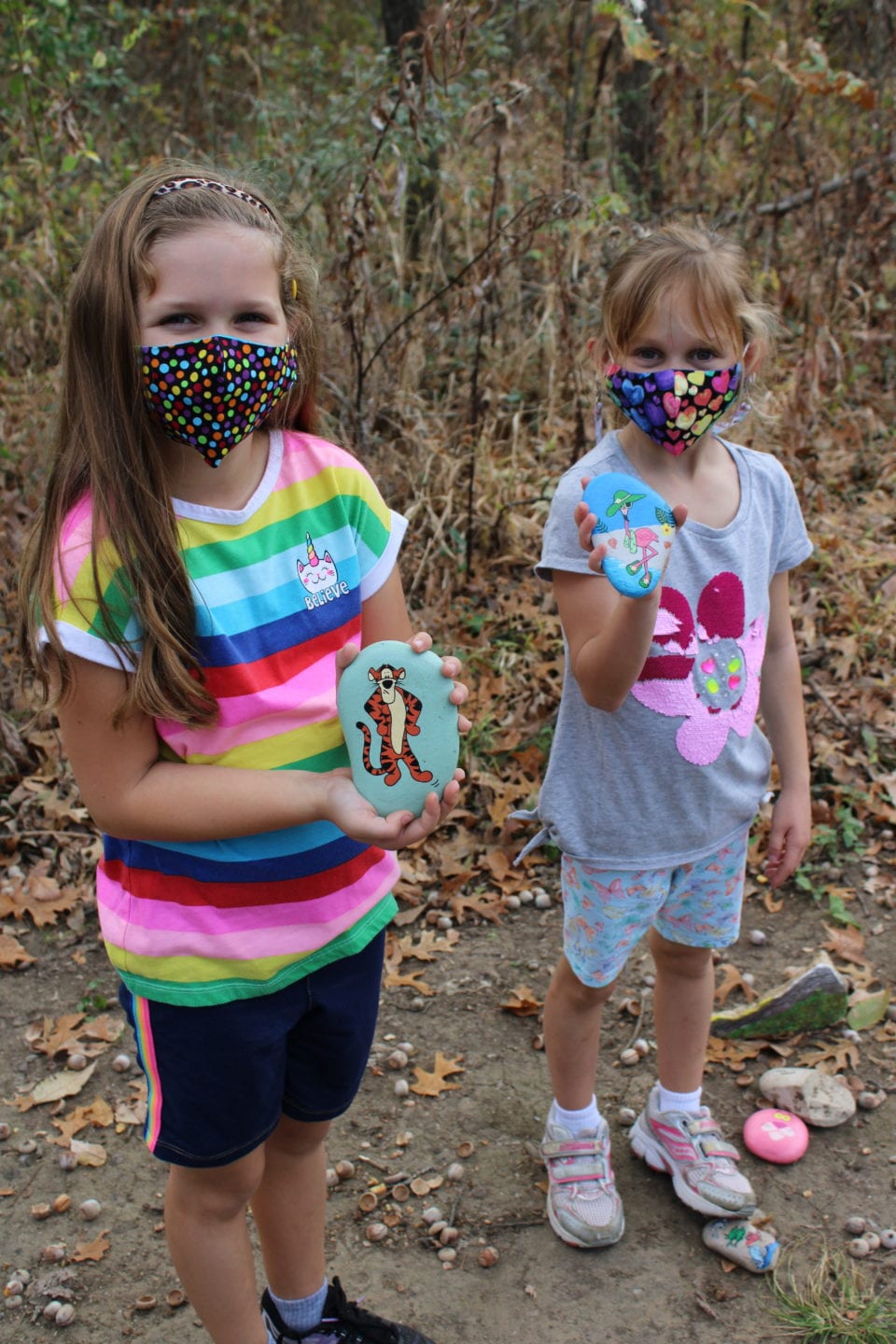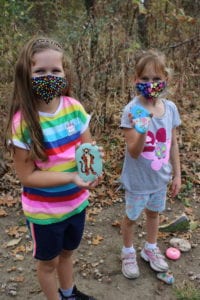 "Encouraging each other is essential to sticking together as a community and using what we have to brighten the days," he says.
"The artwork is beautiful, and there is so much talent displayed. One day, I hope this can become a bit of an outdoor attraction in Grapevine that people will be excited to see. My three-year-old granddaughter had more fun seeing all the Rock Art on the trail than when I bought her a $50 ticket for Ice at the Gaylord."
Most of the world was shut down due to the pandemic, and meanwhile, the front porch of Grapevine resident, Chris Penny, became the central drop off station for boxes of painted rocks from across the U.S. and occasionally the globe. After Chris and his daughters discovered the rock art trail near their home, they painted a few rocks and picked the perfect spot to place them.
Chris then wondered "how can we quickly grow this trail so that it can really make an impact?" He purchased a couple of dozen painted rocks off the internet, and as the trail's notoriety grew, he began to receive gifts and donations of rocks – lots of rocks, right to his doorstep.
"There are artists from all over donating rocks; from places like New York, Australia, Canada and also from our local rock communities," said Chris.
There is also surprisingly large "rock communities" in surrounding cities. In Grapevine, the Facebook community has more than 500 people. The trail now has about 2,500 painted rocks and is still growing daily. The trail consists of themed-sections, for example, dog-themed rocks, music and band rocks, Disney-themed rocks and rocks honoring military and frontline workers.
Research has proven that creating art helps you to relax due to its ability to reduce anxiety and stress in your body. Using art to express how you feel is a form of journaling that experts say helps those stressed.
"The fact that so many others are using the Parr Park Rock Art Trail to stay encouraged during these times is uplifting in itself," Director of Parks and Recreation, Kevin Mitchell, says. "My family and I spent hours on the trail, exploring all of the rocks."
"The Rock Art Trail is something special, and it's great to see the support it gets from the artists and Grapevine Parks. It's so much fun to walk the trail just to see what's there." – 
Karen F. via Facebook.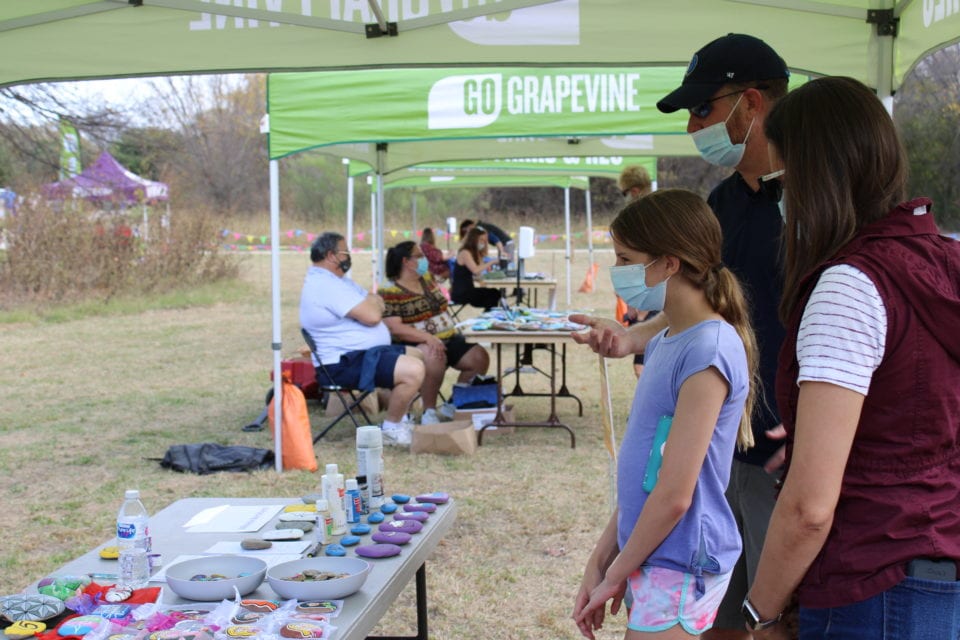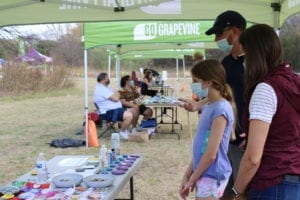 After the trail became a community favorite, the Grapevine Parks and Recreation Department hosted The Parr Park Rock Art Trail Event on Saturday, November 21, and it went off without a hitch! Artists from all over who have contributed to the trail from the very beginning came out to show off new rocks and sell their art. There was a pair of artists who, during the event, created realistic rock-chalk drawings at the start of the trail.
If you haven't already, visit the Parr Park Rock Art Trail. The talent is truly amazing, and we're thankful that our citizens aim to inspire each other through the outdoors' enjoyment.
---
Portions of this article appeared in the Fall 2020 issue of Go Grapevine Magazine. Written by Amanda Rodriguez and Haley Newbanks. See the Rock Art Trail mentioned in the Dallas Morning News.