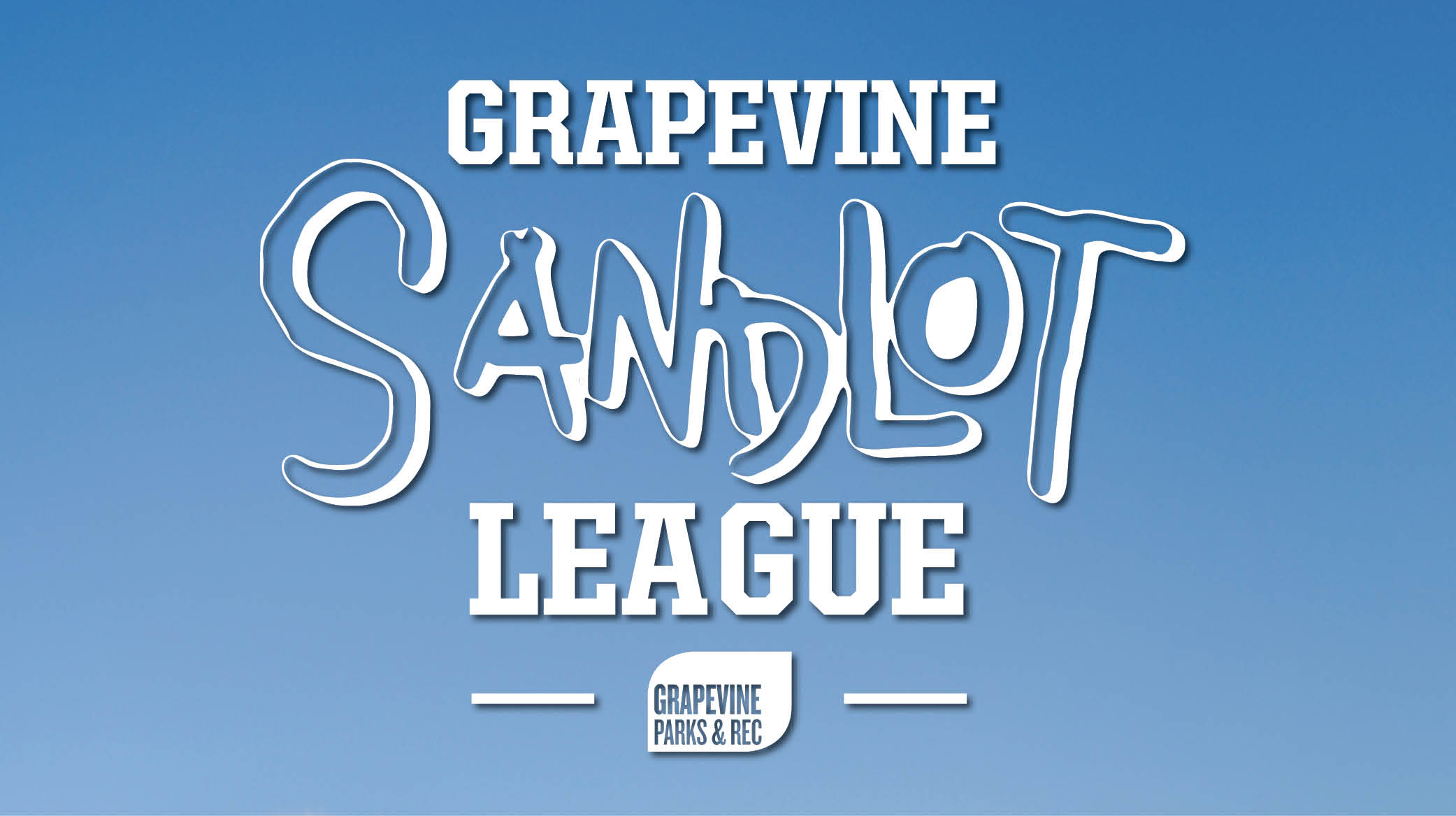 Grapevine Sandlot League
Grapevine is bringing the first youth SANDLOT league for baseball and softball to your backyard!
Registration for games will open the Wednesday prior to each game week.
GRAPEVINE SANDLOT LEAGUE
---
Grapevine is bringing back FUN this summer at Oak Grove Baseball complex and hosting pick up games in its first Sandlot league for both youth baseball and softball…and not to mention, it's FREE to play!
Each team will only have eight players randomly selected by the team captains provided by Grapevine Parks and Rec. Only 16 total players can sign up for each age division each game night. There will be a designated all time pitcher provided for each game. Games will run one hour with each half inning being three outs or three runs…which ever comes first.
Players will receive a team shirt and ALL teams will get to enjoy a pizza after their game!
The Sandlot league will run for three weeks with registration opening the Wednesday prior to each week. To see when your age division plays, view the schedule below and follow the links to sign up!
---
We CAN'T WAIT to see you back on the field this summer in Grapevine!
---
Table Description
Weekly Game Schedule: Week of June 15
GAME DATE
AGE DIVISION
GAME TIME
FIELD
REGISTRATION OPENS
REGISTER HERE
MONDAY, June 15
SOFTBALL: 8U
6:00 pm
OGSB Field 1
WEDNESDAY, June 10
SIGN UP HERE
SOFTBALL: 10U
7:30 pm
OGSB Field 1
WEDNESDAY, June 10
SIGN UP HERE
TUESDAY, June 16
BASEBALL: 7/8U
6:00 pm
OGBB Field E
WEDNESDAY, June 10
SIGN UP HERE
BASEBALL: 9/10U
7:30 pm
OGBB Field E
WEDNESDAY, June 10
SIGN UP HERE
WEDNESDAY, June 17
BASEBALL: 9/10U
6:00 pm
OGBB Field G
WEDNESDAY, June 10
SIGN UP HERE
BASEBALL: 11/12U
7:30 pm
OGBB Field G
WEDNESDAY, June 10
SIGN UP HERE
Table Description
Weekly Game Schedule: Week of July 6
GAME DATE
AGE DIVISION
GAME TIME
FIELD
REGISTRATION OPENS
REGISTER HERE
MONDAY, July 6
BASEBALL: 7/8U
6:00 pm
OGBB Field A
WEDNESDAY, July 1
SIGN UP HERE
BASEBALL: 11/12U
7:30 pm
OGBB Field A
WEDNESDAY, July 1
SIGN UP HERE
TUESDAY, July 7
BASEBALL: 9/10U
6:00 pm
OGBB FIeld G
WEDNESDAY, July 1
SIGN UP HERE
BASEBALL: 11/12U
7:30 pm
OGBB FIeld G
WEDNESDAY, July 1
SIGN UP HERE
WEDNESDAY, July 8
SOFTBALL: 10U
6:00 pm
OGBB Field G
WEDNESDAY, July 1
SIGN UP HERE
SOFTBALL: 12U
7:30 pm
OGBB Field G
WEDNESDAY, July 1
SIGN UP HERE
Table Description
Weekly Game Schedule: Week of July 13
GAME DATE
AGE DIVISION
GAME TIME
FIELD
REGISTRATION OPENS
REGISTER HERE
MONDAY, July 13
BASEBALL: 7/8U
6:00 pm
OGBB Field A
WEDNESDAY, July 8
SIGN UP HERE
BASEBALL: 11/12U
7:30 pm
OGBB Field A
WEDNESDAY, July 8
SIGN UP HERE
TUESDAY, July 14
BASEBALL: 7/8U
6:00 pm
OGBB Field E
WEDNESDAY, July 8
SIGN UP HERE
BASEBALL: 9/10U
7:30 pm
OGBB Field E
WEDNESDAY, July 8
SIGN UP HERE
WEDNESDAY, July 15
SOFTBALL: 8U
6:00 pm
OGBB Field G
WEDNESDAY, July 8
SIGN UP HERE
SOFTBALL: 12U
7:30 pm
OGBB Field G
WEDNESDAY, July 8
SIGN UP HERE