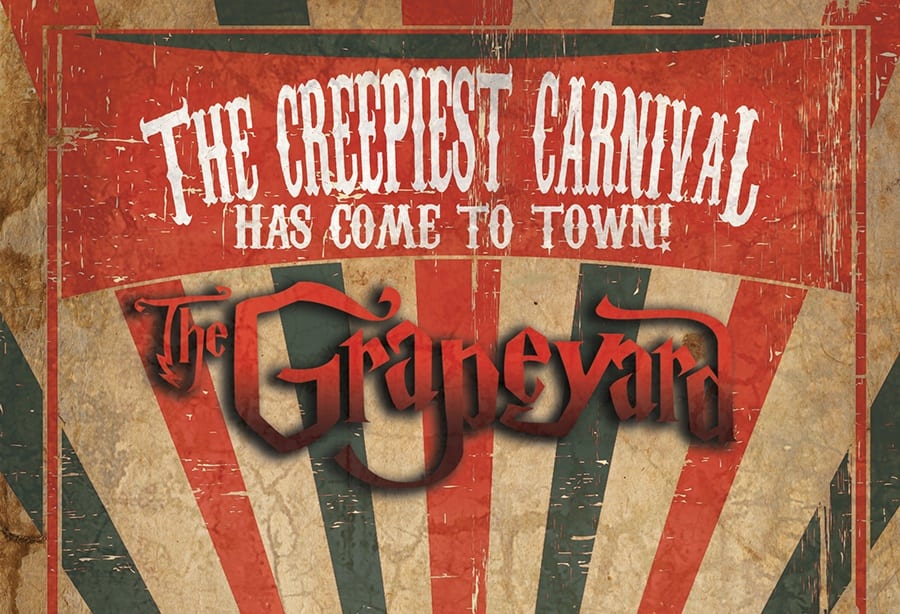 The Grapeyard Presented by Cobb Real Estate Team
The Infamous Grapeyard Halloween Experience at Oak Grove Park! Tickets on sale September 2018! Safe for the whole family!
Date
October 26, 2018 — October 27, 2018
Time
6:00 pm — 11:00 pm
Location
Oak Grove Soccer Complex
1299 Oak Grove Loop North




Grapevine

,

TX

76051

United States
Get Directions
The Grapeyard Presented by Cobb Real Estate Team
Step right up, the creepiest carnival has come to town! Join the freak show as you try your hand at old school carnival games and test your daredevil spirit as you step on to the haunted trail. Always family-friendly, the thrills and chills won't stop until the curtain falls. Immerse yourself in scream-worthy games you'll have to see to believe. Don't forget those three lovable faces of the famous singing pumpkins! Indulge in sweet treats and eats available for purchase all night! All ages are encouraged to come dressed in their best costumes, but please no face masks or hand props.  This one-of-a-kind experience will run Friday October 26th and Saturday October 27th from 6pm – 11pm, join us if you dare for a Halloween scare!
Tickets will go on sale in September. Resident tickets are $2 per person USING COUPON CODE GPVRES (limit 6 per household). Non-Resident tickets are $5 per person (limit 6 per household). You will get emailed your tickets and you must show your tickets at the door either printed or on your phone. Kids under the age of 2 do not need tickets. If you have any issues with your ticket sales please contact us here.
Your tickets will pay for ALL ACTIVITIES, no coupons will be required for ANY ACTIVITY.  Food vendors will take cash or credit.
ATTENTION ALL FOOD VENDORS!! If you are interested in being a food vendor for this event, please read this DOCUMENT and apply below.
Stay up to date with the most current GrapeYard news and ticket information!
Frequently Asked Questions
What is it?
The Grapeyard is our annual Halloween event for Grapevine and surrounding neighbors hosted by the award winning Grapevine Parks & Recreation department. Our objective for this event is to be more than just another Halloween festival. We will have a full immersion Halloween experience for over 7,000 people, giving the community and surrounding areas a way to participate in fun activities but have bigger attractions that are unique to Halloween. We want to create memories that will go beyond the candy grab.
What are the hours?
We will be operating from 6pm – 11pm both Friday October 26th and Saturday October 27th.
Where is The GrapeYard Located?
Here is the GPS address: Oak Grove Soccer Fields, 1299 Oak Grove Loop North, Grapevine, TX 76051. We will be putting signs out to point you in the right direction as well because it is pretty buried out there close to the lake.
What happens if it rains?
Rain or Shine event. If the weather is too intense on Friday or Saturday we will have a rain make-up day on Sunday October 28th.
Does it cost to park?
Free parking
Do you need to buy tickets?
Yes this year we are charging $2 PER PERSON for Grapevine Residents starting in September USING COUPON CODE GPVRES and then ticket sales will open up to all non-residents at $5 per person. See the button at the top of the page to buy your tickets.  Limit 6 per household. YOU MUST PRESENT YOUR TICKET AT THE GATE EITHER PRINTED OR ON YOUR PHONE.
If you did not get your ticket through email please contact us for more information.
Do any of the attractions contain loud noises, fog and strobe lights?
Yes. It wouldn't be Halloween if some of our attractions didn't have fog, strobes, lasers, loud noises and surprise scares. Attractions will have signs and be labeled on the park map so parents and people with medical conditions, any history of seizures or who have sensory sensitivities of any kind can make an informed decision about participating.
What should I wear?
We encourage all ages to come dressed in their best costumes, but 13 and up please no masks covering faces or hand props, we will ask you to put them back into your car. Since this event is outside we suggest you wear shoes that are comfortable and easy to walk-in. Flip flops and sandals might be difficult with some of the terrain you will encounter.
Is this suitable for young kids?
Yes we will have attractions that appeal to Halloween lovers of all ages and scare levels. You will be the judge of whether you or your child will be too scared for certain attractions.
Does The Grapeyard have food and drinks?
Yes we will have multiple vendors serving a variety of food choices. Check back later for more information on vendors.
Will any of the monsters touch me?
We have a "no touch" policy.  All of our actors and volunteers have been instructed to keep their hands to themselves and a safe distance away from any participant.  We do ask that you respect the rule of "you don't touch us, we don't touch you."
Are you handicap accessible?
Though most of the The Grapeyard takes place in natural wooded and open spaces along the shores of Grapevine Lake with no hard surface material, most areas can be accessed using a wheelchair with reasonable effort/assistance. Due to the nature of the event, participants at The GrapeYard will experience various terrain, uneven surfaces, elevation changes, step up/step downs, low light, contact with tree limbs & other foliage. We will attempt to accommodate any accessibility issue or other special needs of participants to the extent that it does not compromise the safety and integrity of the attraction or experience.
What is not allowed at The Grapeyard?
Please no face masks or hand props for those ages 13 and up, we will ask you to put them back in your car. No outside food or beverage, pets or weapons.
I'm a member of the press and would like to cover The Grapeyard, whom do I contact?
Please email your requests to Amanda Rodriguez.
Will there be candy for the kids?
The Grapeyard this year is very activity based and will not have any candy available for the kids this year. We generally adhere to the candy being "earned" trick or treating with neighbors on Halloween!
You didn't answer my question!
If you have any questions we didn't answer, email April Rogers or Meredith Shirley.
Volunteer
Thanks for checking us out! Do you have a group that can commit a night together? Why not turn it into an fun and exciting fundraising opportunity? Here is a way to make new friends, have fun and support the community at The Grapeyard. The Grapeyard is our annual Halloween experience that is more than just a candy grab. We have volunteer positions available from helping work the lines of attractions and even getting to dress up and scare people in our haunted trail experience. We have put together brief descriptions of each position under each shift.
We are looking for approximately 150 volunteers each night ages 11 and up, so please feel free to invite your friends, company and organizations to be involved with this wonderful community event! The Grapeyard begins at 6pm and goes till 11pm each night and will be at Oak Grove Soccer Fields, 1299 Oak Grove Loop North, Grapevine, TX 76051. We will have volunteers work from approximately 5pm – 11:15pm each night and will be sending you more information on what to wear and your attraction you will be working.
We are very grateful you have decided to be a part of this frightfully fun event and will be sending you much more information about the event as the time draws closer. Please feel free to reach out to Cindy Harris at charris@grapevinetexas.gov for any questions you may have about the weekend's hair-raising activities and to sign-up as a volunteer.