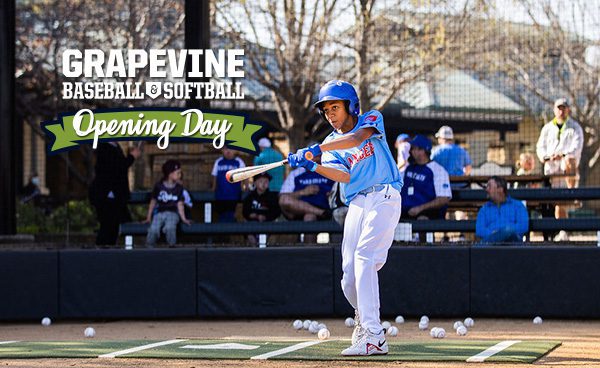 GBS Opening Day
Come celebrate with us!
Time
9:00 am — 12:00 pm
Location
Oak Grove Baseball Complex
GBS Opening Day
You're invited to join us at the Oak Grove Baseball Complex on Saturday, March 25 at 9:00 am as we celebrate Grapevine Baseball & Softball Opening Day games and activities. Learn more about the Grapevine Baseball & Softball program at GoGrapevine.com/GBS.
No registration needed.
PARADE OF TEAMS
GBS teams and players are asked to arrive by 8:30 or earlier to line up with their team on Field A for the parade of teams beginning at 8:45 on Field B. All of the Opening Day ceremonies will be on Field B with the parade of teams kicking it off at 8:45. Teams will parade around the field and stay on the infield during the whole ceremony. We will honor scholarship receipts and city officials will be in attendance to help kick off the 2023 season!
OPENING DAY ACTIVITIES AND VENDORS
Following the ceremony, teams and families can enjoy all of the fun activities throughout the complex. Join us for the MLB Jr. Home Run Derby on Field F from 10:00-11:30. It will be a fun showcase of 9-14U players…watch and cheer on Grapevine kids showing their power! There will be different vendors and mascots throughout the park as well as giant yard games and a balloon artist. Make sure to stop by the concessions stand and enjoy a dollar hot dog.
Vendors:
Travelin Tom's Coffee Truck
Kona Ice
HTeaO
Chick-Fil-A
Park Activities:
MLB Jr. Home Run Derby, 10:00-11:30am
Balloon Animals
Glitter Tattoos
Yard Games
Obstacle Course
Hitting Target Contest
FRIENDS OF GBS TEAM RAFFLE – more information coming soon!
Opening Day is the official kick-off to the GBS team raffle. The raffle will be done online through Friends of GBS. Players are asked to sell at least 20 raffle tickets, $5 each, which will be placed in a drawing the top 3 prizes! There are incentive prizes for the top three individual sellers and top three team sellers…as well as weekly incentive prizes provided by Wise Guys and Chick-Fil-A. A portion of the money collected will be returned to the head coach of each team to be used for any team function or team/player gifts.
GBS Opening Day