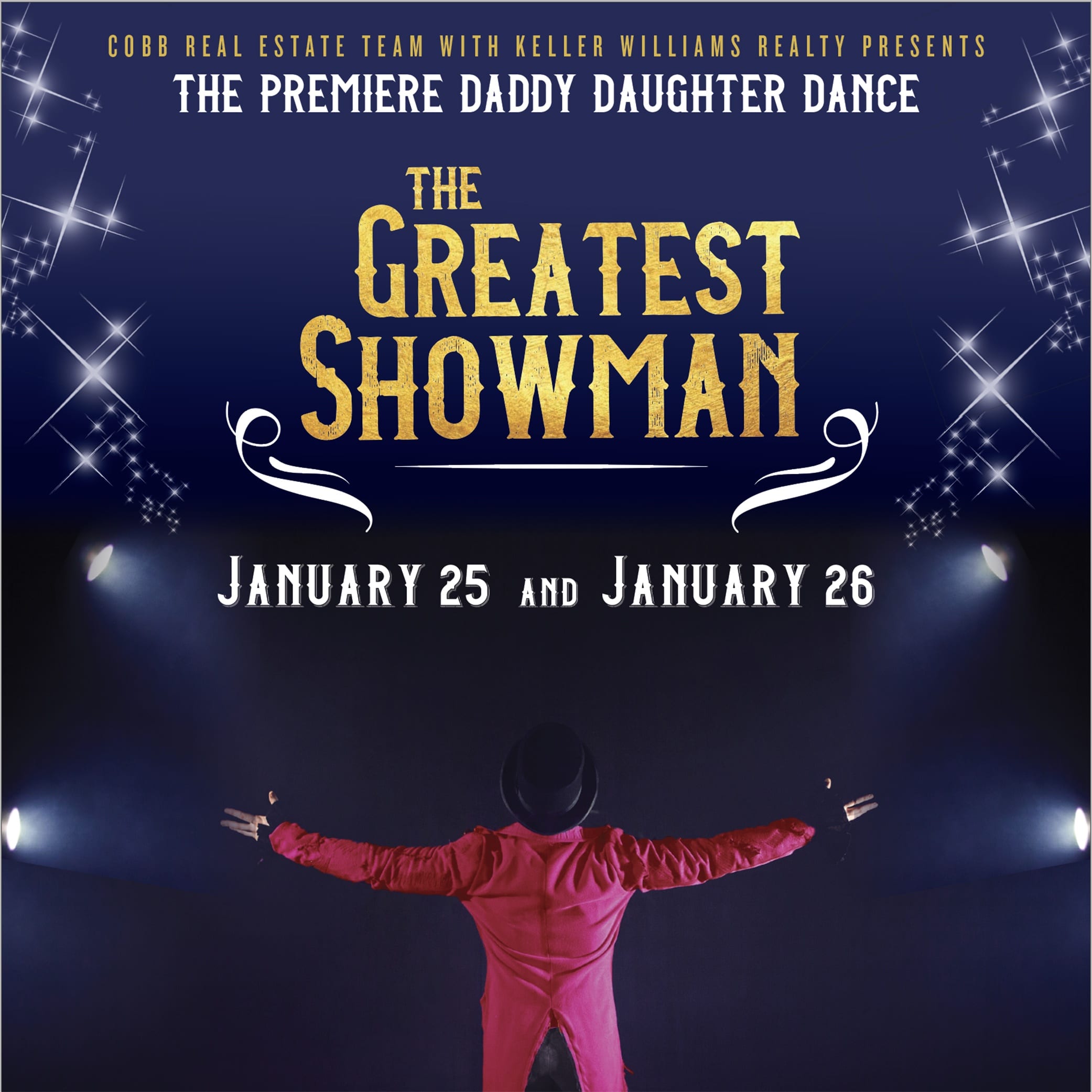 Daddy Daughter Dance: The Greatest Showman Presented by Cobb Real Estate Team
Grapevine's annual Daddy Daughter Dance: The Greatest Showman
SOLD OUT
Date
January 25, 2019 — January 26, 2019
Time
7:00 pm — 9:00 pm
Location
Compass Center
Daddy Daughter Dance: The Greatest Showman Presented by Cobb Real Estate Team
WE ARE OFFICIALLY SOLD OUT FOR THIS EVENT.
Ladies and gents, this is the moment you've waited for, where it's covered in all the colored lights, impossible comes true, it's taking over you, this is the greatest show! Dazzle your daughter with a spectacle of song and dance and everything you ever want. Catering to a wide variety of ages, you'll be invited to eat circus food, snap a photo in the middle of the PT Barnum tent and treat yourself to some tasty desserts!
Date: January 25 & 26, 2019
Location: Compass Center, 4201 Pool Road
Time: Friday 7:00 – 9:00 pm (SOLD OUT), Saturday 4:00-6:00 (SOLD OUT), 7:00-9:00 pm (SOLD OUT)
Fee: $20/resident per person (using coupon code GPVRES) $25/non-resident per person
Ages: 2-18 year old girls
Registration Deadline: Wednesday, January 23
This year's Circus-themed menu includes:
BBQ Chicken
Mac & Cheese
Corn on the Cob
Corny Dogs
Fruit Skewers
Crudite
Popcorn
Dessert: Live Cotton Candy Vendor
Activities Include:
DJ and Dancing
Free Limo Rides
Hair/Make-up and Face Painting
Karaoke
Make your own top hat craft
Photo booth
Various Carnival games throughout the venue
Performances by The Greatest Showman Cast
IF YOU CAN'T FIND YOUR EMAIL WITH THE TICKETS PLEASE CHECK YOUR JUNK MAIL FIRST.
For any ticketing issues you can email us here or call The REC of Grapevine at 817.410.3450.
For additional questions, please email Kevin Morgan. 
SOLD OUT